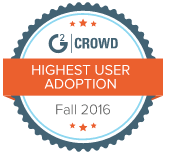 It takes great technology, devoted staff, and dedicated customers who all partner to create long-term, high-utility products.
Playa Vista, CA (PRWEB) September 01, 2016
When it comes to Digital Asset Management, G2 Crowd's Fall results show that Wiredrive is pretty DAM good. The popular secure video sharing software has eclipsed the competition with a user adoption rate of 86 percent.
Using G2 Crowd's website, hundreds of creative and business professionals reviewed their experiences of 19 different DAM companies. G2 Crowd's director of research, Marty Duffy, says that the probability of these users adopting Wiredrive's software is far above the industry mean.
"In the Fall 2016 Implementation Index Report for the Digital Asset Management category, Wiredrive was awarded the highest user adoption award, beating the average by 21 percent," said Duffy.
Digital Asset Management businesses provide a secure place for companies to catalogue, store, share, and collaborate on digital assets.
In addition to Wiredrive's outstanding User Adoption results, they came in at a close second in G2 Crowd's Overall Implementation Score. The Implementation Score employs a combination of User Adoption, Ease of Setup, and Implementation Time results to determine the relative implementation quality of a company. Wiredrive scored 8.4 out of a possible 10 points, far above the 7.5 average.
Their high rates of customer satisfaction may be explained by their history of adapting their product to fit the needs of the consumer. Wiredrive recently paired with Adobe to fluidize the user experience for the many clients that use both companies' software. In addition, Wiredrive uses beta programs that actively weigh user feedback in order to troubleshoot in real time; this ensures the optimal quality and customer satisfaction with each release.
Wiredrive CEO Taylor Tyng credits their success to complete dedication towards the needs of the customer.
"Experience is everything when your goal is to remove complications of creative workflows, whether that's from quick media sharing or deeply embedding into authoring workflows like Adobe. If you can't make it instantly understandable, then you shouldn't expect long-term happiness and strong adoption. It takes great technology, devoted staff, and dedicated customers who all partner to create long-term, high-utility products."
To see the full results of the implementation report view it here.
For media inquiries, please contact Leni Maiai at Melrose PR,
leni(at)melrosepr(dot)com or call (818) 213-8910.
About Wiredrive:
Wiredrive is a secure media-sharing and collaboration tool designed for creative professionals. More than 1,500 agencies, brands, production houses, and entertainment companies rely on Wiredrive to effectively collaborate with teams and privately share video.
Tailored for professionals who create video, Wiredrive has faster upload and download speeds, industry-specific workflows, robust metadata search capabilities, custom branding, insights into user activities, and enterprise-grade security.
Wiredrive empowers agency creative minds, brand marketers, and production teams to securely share videos, simplify the review process, and find any media asset in one centralized hub.