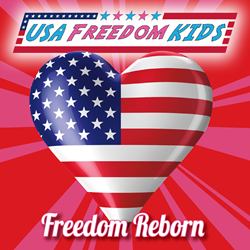 Kaepernick would change his tune if he listened to FREEDOM REBORN!
Marco Island, Florida (PRWEB) September 01, 2016
America is a country that doesn't put people in jail (or worse) for sitting down during its national anthem, the "Star Spangled Banner."
The USA Freedom Kids are now hoping to help millions of Americans deal with this recent controversy surrounding San Francisco Forty-Niner's quarterback, Colin Kaepernick, by offering a 50% discount on their album, Freedom Reborn.
"Having the freedom to sit down during the national anthem is maybe one of the main reasons we should all stand" says Alexis, the precocious nine-year old member of the group.
Jeff Popick, the group's manager – and Alexis' father – couldn't agree more. "I am proud beyond words of the USA Freedom Kids, and they make me even more proud than ever to be American. America needs more patriotism, and the USA Freedom Kids deliver. In fact, the KIDS came up with the idea to let everyone download their patriotic album Freedom Reborn at a fraction of the regular price."
During production of a USA Freedom Kids' music video, Bob Galloway, a Walmart executive, termed the group, "The new, best of America."
"We really want to inspire and celebrate freedom with all Americans," says Alexis.
Indeed, music is a universal language that can wield persuasive powers and Freedom Reborn is the all-American patriotic fuel.
Freedom Reborn is a compilation of 15 patriotic songs; some of which are "old favorites," some are remixes and some are complete originals. The songs span many genres including rock, country, jazz, hip-hop and even Electronic Dance Music (EDM). As a result, the album successfully bridges several generations from young kids to elderly veterans.
The one commonality all Americans share is freedom, and the USA Freedom Kids' album, Freedom Reborn, holds ominous potential to bring Americans together.
"Our publishing arm, CD Baby, has provided the tools to allow us to do something quite unique in offering a downloadable album at such a drastic discount; and we hope all Americans will take the opportunity to experience this incredible musical celebration of freedom," says Popick.
Freedom Reborn is available through the CD Baby website for a very limited time, for just $4.99, representing a 50% discount. "Every dark cloud has a silver lining, and this recent controversy has allowed us to help bring millions of Americans together with these amazing songs," says Popick.
Among the many songs on the album, the USA Freedom Kids include their own stirring rendition of the national anthem and another song they call the "National Anthem Part 2."
"Our 'National Anthem Part 2' is an EDM song you simply have to experience. It contains America's "Star Spangled Banner" ramped up into a full-fledged dance song that will compel you to get on your feet and do our 'freedom wave' dance," smiles Popick.
"We think he [Kaepernick] would change his tune if he listened to our album," chuckles Alexis.
Get Freedom Reborn during the limited-time, 50%-off, sale. Check it out here.