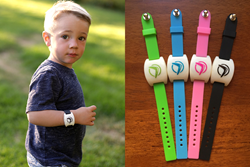 first responders will be better able to reunite lost children with their families
San Diego, CA (PRWEB) September 01, 2016
Boomerang Bracelet is the first-ever kid's wearable that helps parents keeps track of their child and find them quickly with smart alerts. Boomerang Bracelet, unlike other children's wearables, is also the first-ever to automatically detect when it's on a child's wrist for complete security; meaning if a child removes their Boomerang Bracelet and wanders off, it will know and alert a parent. Boomerang provides parents with mobile boundaries for their kids, giving them freedom to roam without the requirement to be within line of sight. The Kickstarter campaign launches on September 14th.
Boomerang connects to a smartphone so parents can easily adjust their child's boundaries. It works in numerous settings including crowded places like theme parks or open spaces like unfenced playgrounds or nature trails. As soon as a child approaches their boundary, the bracelet will chirp to let them know they're getting too far away. If they cross it, one alarm will sound on the parent's phone to get their attention, and another will sound on the bracelet itself so that the parent can hear and locate the child quickly. Should it ever come off unintentionally, Boomerang will automatically alert parents through the app and sound the alarm on the bracelet. It's also water-resistant, and will sound the phone alarm if immersed in water.
After initial setup, there is never a need to open the app during normal use again; parents simply strap Boomerang on a child's wrist, hold the phone against it, and it will chirp to indicate it's active. To deactivate, just remove the bracelet within a few feet of your phone. "Boomerang is as easy to use as a pair of shoes," says co-founder and CEO, Brian Anderson.
Contact information can also be stored in the device so that, should a child ever get lost, first responders with the app can find a parent's phone number quickly. "I'm really excited for Boomerang to be available in our community. Not only will it help parents keep tabs on their kids, but our first responders will be better able to reunite lost children with their families," said John Goodman, parent and firefighter of 18 years.
Boomerang has a range of at least 100 feet in almost all environments. Since it isn't a GPS tracker, it comes with no additional monthly fees or subscriptions. The app will be free to download for both Android and iPhone. Boomerang is headed to Kickstarter on September 14th and will be available for regular purchase in 2017.
Media Contact:
Jay Swanson
CRO – WearsIt LLC
jay(at)wearsit(dot)net
509-251-8290
Photos, video, and graphics available at http://wearsit.net/boomerang-press-kit