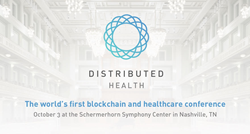 Healthcare is experiencing a tech renaissance, a shift toward a patient-centric, interconnected and data-driven ecosystem.
NASHVILLE, Tenn. (PRWEB) September 01, 2016
The inaugural Distributed: Health Blockchain Conference on October 3 in Nashville opens a new era of technology to support more cost-effective and consumer-oriented delivery of healthcare in the U.S. and around the world.
Event host BTC Media announced leading healthcare, blockchain and financial services innovators as sponsors of Distributed: Health, which will convene at Nashville's Schermerhorn Symphony Center.
The title sponsor of the event is Gem, a blockchain application platform company based in Venice, Calif. Conference sponsors EY, State Farm, BlackLine Payments Advisors, BitFiniti, PNC Bank, Tierion, Comcast and eVue Digital Labs are pioneering the exploration and development of blockchain applications that effect fundamental change in healthcare as well as financial services, insurance and other industries.
Those companies are joined by sponsors Frost Brown Todd LLC and Waller Lansden Dortch & Davis LLP, law firms representing major healthcare clients, as well as by the Nashville Entrepreneur Center, Nashville Technology Council and The Innovation Center at Vanderbilt University, among others.
The Distributed: Health conference will bring leading blockchain technology companies together with healthcare leaders to address how distributed ledger technology can disrupt and optimize healthcare and related services providers.
Distributed: Health sponsors and speakers will continue to be announced in the coming weeks. Discounted registration tickets remain available for purchase through September 2, 2016.
The event will be preceded on Oct. 1-2 by a 24-hour Distributed: Health blockchain hackathon to be held at the Nashville Entrepreneur Center and sponsored by State Farm, Gem, BitFiniti and Tierion. Teams from around the U.S. and world will compete in the hackathon for $28,500 in prizes to the best applications built with distributed ledger technology.
During the conference, BTC Media will also host a two credit-hour CLE session focused on the regulation of blockchain technology and its intersection with HIPAA.
"The healthcare industry stands to benefit immediately from blockchain technology," said BTC Media co-founder and CEO David Bailey. "As in banking and other financial sectors, transactional trust and efficiency are absolutely critical. In healthcare, those same values are even more important, because people's lives are at stake."
Originally the basis for recording digital currency transactions, blockchain technology is now being used in applications for financial services, healthcare, insurance, real and intellectual property, transportation and manufacturing.
Tierion creates global collection and storage systems using blockchain technology to immutably record and verify data.
"Tierion is proud to be the first company to apply blockchain technology to healthcare through our partnership with Philips Blockchain Lab," said Wayne Vaughan, CEO. "After a year of work, we're ready to share our findings with the attendees at Distributed: Health."
Blockchain solutions innovator Gem, based in Venice, Calif., has been at the forefront of initiatives in an array of industries including financial services, insurance and healthcare.
"Healthcare is experiencing a tech renaissance, a shift toward a patient-centric, interconnected and data-driven ecosystem. Gem is ready to deliver blockchain technology to healthcare, to provide pipelines that make data more available with uncompromised security and integrity," said Micah Winkelspecht, founder and CEO of Gem and a keynote speaker at the forthcoming conference.
Humana, one of the largest health insurance providers in the United States, will also be participating in the conference with Chief Innovation Officer Chris Kay giving the opening keynote at Distributed: Health.
"Blockchain allows for interoperability at a new level for health care," said Humana president and CEO Bruce Broussard. "Competitors [can start] working together for the consumer. Blockchain is all about removing barriers, and that focus will enable consumers to better manage their health….The promise of blockchain is about putting the consumer at the center of health care, instead of the other way around."
For more information or to register for Distributed: Health, visit https://goDistributed.com/health/.
About BTC Media:
Headquartered in Nashville, Tennessee, BTC Media LLC is the publisher of Distributed, Bitcoin Magazine and yBitcoin. The company is the world's largest provider of multimedia
educational and informational resources about the blockchain and digital currency industries.
Contact:
BTC Media
Tyler Evans, CTO
615-454-4861
health(at)goDistributed(dot)com