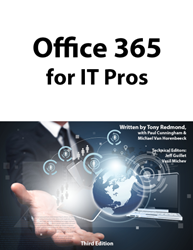 We were delighted to be asked to share our experiences from over 1,500 migration projects from all over the world with Tony and his team.
Zug, Switzerland (PRWEB) September 01, 2016
Office 365 for IT Pros – the bestselling and constantly revised guide to how Office 365 actually works written by Microsoft MVPs – has just been updated with a new chapter discussing enterprise email migration. The new content is provided by QUADROtech, the data migration specialists as part of a sponsorship arrangement to support the ongoing development of the book over the next year.
Office 365 for IT Pros is the authoritative source for Microsoft Office 365 information, tips, and guidance on everything from Exchange Online to Delve Analytics. It is written by three Office Servers and Services MVPs: Tony Redmond, well-known speaker and commentator on Microsoft technology who currently writes for ITUnity.com and Petri.com; Paul Cunningham, owner of ExchangeServerPro.com, a writer, trainer and speaker based in Brisbane, Australia; and Michael Van Horenbeeck, a Microsoft Certified Solutions Master from Belgium.
Tony Redmond, lead author, said: "This book is aimed at consultants and sysadmins tasked with preparing to move on-premises workload to an Office 365 tenant, and IT professionals expected to manage or support Office 365 services. We're delighted to work with QUADROtech and appreciate their support for the work we need to do to develop the book further in the coming year. The addition of the enterprise email migration chapter reflects the need to explain why enterprise migrations differ from the kind of routine mailbox moves experienced in smaller Office 365 tenants."
Dan Clark, chief strategy officer for QUADROtech said: "With email archive migrations and PST eradication projects increasingly becoming integrated with Office 365 adoption processes, it's important to recognise the effect these can have on enterprise workflows. We were delighted to be asked to share our experiences from over 1,500 migration projects from all over the world with Tony and his team.
"We'd already collaborated with Paul and Tony on the Complete Guide to PST Eradication eBook, and Office 365 for IT Pros is such a widely admired and cited reference work that we naturally wanted to help by providing the support to enable the team to continue developing and enhancing the book. Office 365 doesn't stay still and it's impossible to attempt to take on the task of documenting such an ever-changing platform over nearly 900 pages packed with information without a backstop."
QUADROtech's sponsored content includes migration orchestration, tips for dealing with end users in migrations, an understanding of workflow and dependencies for email migrations and PST eradication projects, and tips on ensuring you best and fastest results from your migration partner.
ExchangeServerPro.com subscribers who previously purchased the third edition of Office 365 for IT Pros can now download the updated files. Those who bought the Kindle version of the third edition through Amazon will be able to refresh their copy soon. To find out more visit: http://quadro.tech/probook.
-----
About QUADROtech: the data migration company
QUADROtech is a leading global provider of tools to manage the migration of email archives, mailboxes, offline files and related resources. Its technology is a key component in email infrastructure changes, enterprise desktop refresh projects, rollout of latest versions of Windows, and the adoption of Microsoft Exchange 2013 and Office 365. QUADROtech's staff of industry experts and its worldwide network of partners help customers avoid the most costly, time-consuming and risky aspects of migration projects.
QUADROtech Solutions is an independent company headquartered in Zug, Switzerland, with offices in the US and the UK. It is a Microsoft Gold Application Development, Datacenter, Intelligent Systems and Messaging partner, and has established partnerships with many of the world's other leading IT infrastructure providers.
Find out more at http://www.quadrotech-it.com
QUADROtech is a trademark of QUADROtech Solutions AG. All other trademarks are the property of their respective owners.