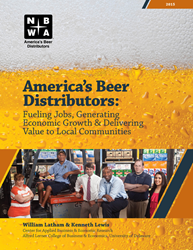 The beer distribution sector is a hidden gem that has been tremendously undervalued in previous economic reports
Alexandria, Virginia (PRWEB) September 01, 2016
As Americans prepare to celebrate Labor Day, the National Beer Wholesalers Association (NBWA) is recognizing the men and women of the beer distribution industry whose work positively impacts the nation's economy.
NBWA President and CEO Craig Purser said, "From truck drivers to fork lift operators, and from graphic artists to sales representatives, America's beer distribution employees work day in and day out to make this the best beer market in the world for everyone."
"With more than 4,000 breweries in operation across the United States today, independent distributors are building more brands and delivering more labels to the marketplace than ever before," Purser added. "Because of distribution employees who drive the beer trucks in local communities, fill the beer coolers at corner stores and deliver new tap handles to neighborhood pubs, consumers can choose from an unparalleled variety of beer – from familiar domestic brands to intriguing imports and exciting new products from local and small craft brewers. That's something we can all celebrate."
According to the economic impact report America's Beer Distributors: Fueling Jobs, Generating Economic Growth & Delivering Value to Local Communities, more than 3,000 independent beer distribution facilities directly employ more than 135,000 hardworking men and women in communities across the country, who collectively earn $11.1 billion per year in pay and benefits.
The report, produced by Dr. Bill Latham and Dr. Ken Lewis of the Center for Applied Business & Economic Research at the University of Delaware, provides a comprehensive look at beer distribution companies' total impact on national and state economies. In addition to the impact of distributor operations, the report also accounts for the amount of resources contributed by beer distributors in supporting community events and local economic development, contributing to charitable causes and promoting responsible alcohol use.
"The beer distribution sector is a hidden gem that has been tremendously undervalued in previous economic reports," said Dr. Latham. "Fueling more than 338,000 direct and indirect jobs, beer distributors add $70 billion to the nation's gross domestic product and offer far reaching benefits to brewers, retailers, consumers and government agencies at all levels."
Key findings of the economic impact study include:

The beer distribution industry directly employs more than 135,000 people in the United States.
When the impacts of distributor capital investment and community involvement are considered, the total number of impact jobs exceeds 338,000.
Beer distributors add $70 billion to the nation's gross domestic product.
Beer distributor activities contribute nearly $13 billion to the federal, state and local tax bases. This does not include the nearly $11 billion in federal, state and local alcohol excise and consumption taxes.
The beer distribution industry contributes more than $23 billion in transportation efficiencies for the beer industry each year.
Beer distributor activities result in nearly $178 million in economic impacts to communities through support of charities, local events and economic development.
To view the full report and state by state data, visit http://www.nbwa.org/resources/economic-impact.
###
The National Beer Wholesalers Association (NBWA) represents the interests of America's more than 3,000 licensed, independent beer distributor operations in every state, congressional district and media market across the country. Beer distributors are committed to ensuring alcohol is provided safely and responsibly to consumers of legal drinking age through the three-tier, state-based system of alcohol regulation and distribution. To learn more about America's beer distributors, visit http://www.AmericasBeerDistributors.com. For additional updates from NBWA, follow @NBWABeer on Twitter, watch NBWA videos on http://www.youtube.com/NBWABeer and visit https://www.facebook.com/pages/NBWABeer/.