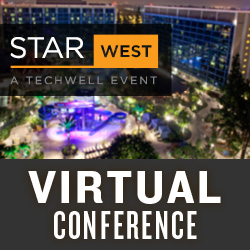 At STAR conference's ninth virtual event, STARWEST Virtual 2016, TechWell aims to connect new and returning virtual attendees in an effort to discuss and share the improvement of software development and quality
Jacksonville, FL (PRWEB) September 08, 2016
The STARWEST (Software Testing Analysis & Review West) Virtual Conference will be streaming live on October 5–6, 2016, from the Disneyland Hotel in Anaheim, California. The free virtual conference will focus on software testing and quality. Attendees can watch keynote presentations, select industry technical presentations, and various speaker interviews as they are happening live. Plus, attendees will be able to visit the virtual Expo, learn about the most recent solutions from top industry providers, and chat live with other online attendees as sessions are happening.
This year's keynote speakers include renowned testing professionals: Selena Delesie from Delesie Solutions, Casey Rosenthal, Netflix's engineering manager, TechWell's own Lee Copeland, Ipreo's Director of Software Test Engineering, Mary Thorn, and Jared Richardson, principal consultant of Agile Artisans.
Keynote presentations include: Lessons Learned in Leadership: Give Your Team the Edge, Engineering Trust in Complex Systems, Optimize Your Test Automation to Deliver More Value, Take Charge of Your Testing Career: Bring Your Skills to the Next Level, and Lightning Strikes the Keynotes.
"STARWEST Virtual 2016, the ninth virtual event in the STAR conference series, aims to connect and share information about improving software quality to people all over the world", said Alison Wade, TechWell President Conferences, Training and Consulting.
Visit https://starwest.techwell.com/program/2016-free-virtual-conference for more information.
ABOUT TECHWELL CORPORATION:
TechWell—through its conferences, training, consulting, community websites, and online resources—helps people and organizations develop and deliver great software. For more information, visit http://www.techwell.com.