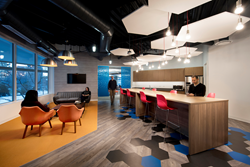 The Social Innovation Center is designed as an affordable co-working space for emerging nonprofits, a center to help fuel innovative ideas in the health and human service area
Washington, DC (PRWEB) September 07, 2016
OTJ Architects (OTJ) recently completed the phased renovation in place for United Way Worldwide in Alexandria, Va., which resulted in a 20 percent reduction in RSF per employee from its previous layout.
The 85,000-square-foot nonprofit organization project consisted of a five-floor, full building renovation including a new roof, new windows, new chillers and an elevator modernization.
The new layout provides a more efficient, flexible and open workspace that filters in an abundance of natural light. There is a board room on the fifth floor and various-sized meeting rooms, phone rooms, hoteling stations and informal meeting spaces to provide a host of options for both individual and group work. A large staff lounge was added on the fourth floor to encourage employees to relax and socialize in the space as well. The five floors were designed in two phases and constructed in three phases:

Phase 1 (fourth and fifth floors): spanned six months
Phase 2 (third floor): spanned three months
Phase 3 (first and second floors): spanned four months
"By approaching the design and construction in phases, we were able to achieve UWW's design goals with minimal disruption to staff," said Kaan Dilber, OTJ Associate and Project Manager for the UWW project. "The phased renovation also allowed staff to use completed floors as swing space and work productively throughout several months of construction."
UWW occupied each floor prior to the renovation, but following an extensive space planning process that focused on greater collaboration and transparency within the space, the second floor is now leasable. A 5,000-square-foot portion of the second floor is dedicated to the Social Innovation Center.
"The Social Innovation Center is designed as an affordable co-working space for emerging nonprofits, a center to help fuel innovative ideas in the health and human service area," said Greg Magnani, Director of Brand Licensing at UWW. "The center's below-market rates and short term lease options provide nonprofit start-ups with value and flexibility." Interested tenants can contact Greg to learn more greg.magnani(at)uww.unitedway(dot)org.
With the second floor now being leased, this project enabled UWW to slash its real estate footprint from 333 RSF per employee to 267 RSF per employee. Although the square footage per employee has been reduced, the new design provides optimal space utilization to enhance the UWW culture and mission and gives the workplace a true sense of community.
Contact OTJ Architects to discuss your architectural needs today.
About OTJ Architects
OTJ Architects is a well-respected national interior architecture design firm that has successfully completed thousands of projects throughout the country. Founded in 1990, OTJ is comprised of six studios headquartered in Washington, DC, with more than 60 architects and designers, many of whom are LEED Accredited Professionals. We are workplace designers who focus on you – your goals and your opportunities – to create a unique vision of your future work environment. Our goal is to constantly challenge ourselves to design better, smarter workplaces that allow people to work strategically, flexibly and with a better quality of life. For more information, please visit http://www.otj.com.
About United Way Worldwide
United Way Worldwide fights for the health, education and financial stability of every person in every community. Supported by nearly 3 million volunteers, more than 10 million donors worldwide, and more than $5 billion raised every year, United Way is the world's largest privately-funded nonprofit. We're engaged in nearly 1,800 communities across more than 40 countries and territories worldwide to create sustainable solutions to the challenges facing our communities. United Way partners include global, national and local businesses, nonprofits, government, civic and faith-based organizations, along with educators, labor leaders, health providers, senior citizens, students and more. For more information about United Way, please visit UnitedWay.org. Follow us on Twitter: @UnitedWay and #LiveUnited.