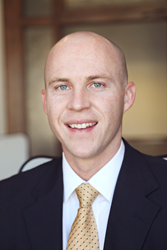 We are very pleased to elevate Mark and Brad into these roles and expect a seamless transition given the collaborative team structure in which we work.
Salt Lake City, UT (PRWEB) September 01, 2016
Grandeur Peak Global Advisors® announced today that Mark Madsen and Brad Barth have been promoted to the role of Industry Portfolio Manager on the Grandeur Peak Global Reach Fund. Mr. Madsen will lead the Energy & Materials team and Mr. Barth will lead the Financials team. The Global Reach Fund is managed by six industry portfolio managers (and their respective industry teams) who collectively cover the globe to find what they believe to be lesser known, best-in-class growth companies. The micro-to-midcap Global Reach Fund is overseen by guardian portfolio managers Robert Gardiner (CEO, Co-DOR), Blake Walker (CIO), and Randy Pearce (Co-DOR).
Mr. Madsen (CFA, MAcc) began his investment career at Wasatch Advisors where he specialized in Energy & Materials, Industrials and Financials. Before joining Grandeur Peak on the Energy & Materials team at the beginning of 2016, Mr. Madsen had spent the last seven years as a portfolio manager at Red Desert Capital and then managing an equity portfolio for a family office.
Mr. Barth (MSc) joined Grandeur Peak's Financials team in 2015 from Goldman Sachs, where he had been an EMEA financial institutions analyst in the Credit Research Group. Mr. Barth earned a master's degree from the London School of Economics and teaches a game theory course for MBA students as an adjunct professor at the University of Utah.
Randy Pearce, co-Director of Research, said: "We are very pleased to elevate Mark and Brad into these roles and expect a seamless transition given the collaborative team structure in which we work."
About Grandeur Peak Global Advisors
Grandeur Peak Global Advisors is comprised of a highly seasoned and collaborative research team taking a bottom-up approach to investing using disciplined global screening, rigorous company due diligence, and close attention to valuation to find what we believe to be the best investment opportunities around the world. Our bias is towards micro to mid-cap companies because we believe we can find faster growth among these firms, and often at better valuations due to the lack of analyst coverage. Grandeur Peak Global Advisors, LLC is an employee-owned investment adviser headquartered in Salt Lake City, Utah and registered with the Securities and Exchange Commission under the Investment Advisers Act of 1940.
###
The objective of all the Grandeur Peak Funds is long-term growth of capital.
RISKS:
Mutual fund investing involves risks and loss of principal is possible. Diversification does not eliminate the risk of experiencing investment loss. Investing in small-cap funds will be more volatile and loss of principal could be greater than investing in large cap or more diversified funds.
Investing in foreign securities entails special risks, such as currency fluctuations and political uncertainties, which are described in more detail in the prospectus. Investments in emerging markets are subject to the same risks as other foreign securities and may be subject to greater risks than investments in foreign countries with more established economies and securities markets.
An investor should consider investment objectives, risks, charges, and expenses carefully before investing. To obtain a prospectus, containing this and other information, visit http://www.grandeurpeakglobal.com or call 1-855-377-PEAK (7325). Please read it carefully before investing.
Grandeur Peak Funds will deduct a 2.00% redemption proceeds fee on Fund shares held 60 days or less. For more complete information including charges, risks and expenses, read the prospectus carefully.
CFA is a trademark owned by the CFA Institute.
Grandeur Peak Funds are distributed by ALPS Distributors, Inc ("ADI"). Eric Huefner is a registered representative of ADI.
GPG000505 8/31/17