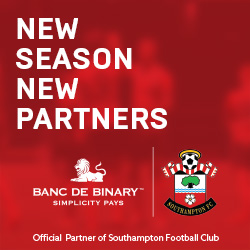 LIMASSOL, Cyprus (PRWEB) September 06, 2016
Under the slogan "New Season, New Partners," Banc De Binary and Southampton Football Club will see fans and traders closer than ever, sharing each other's excitements and triumphs. With 130 years of proud history, Southampton Football Club represents the honor and tradition that has drawn millions all over the world to the sport of football. With over half a million followers on Twitter and 1.5 million on Facebook, the club has won a solid place in the hearts and minds of many football fans worldwide. Banc De Binary shares the same sense of honor and respect that the Saints value, and the bond between the two will serve to strengthen the bond with clients and fans alike.
Christos Taliadoros, Executive Director of Banc De Binary Limited said regarding the partnership: "We're excited to align ourselves with Southampton Football Club, which sets the bar high for determination, success and class. Football is quite a popular sport among people in our field. Southampton Football Club stands out and shines amidst its competitors, which is precisely why we at Banc De Binary feel such a strong connection to the club. We at Banc De Binary are both excited and grateful for the opportunity to join forces with Southampton Football Club, and bring our clients closer to this prominent club whose core values are truly inspirational."
David Thomas, Commercial Director at Southampton Football Club, added: "We're very pleased to have welcomed Banc De Binary as our Official Binary Trading Partner for the 2016/17 season. Banc De Binary's core values are very much aligned with those we have at the football club. We are both striving to stay at the forefront of our fields, with creativity and innovation at the heart of everything we do. Our passion to engage with supporters matches the desire of Banc De Binary to ensure their clients are given the very best when it comes to binary options trading. That is just one of the reasons why we feel this will be a very exciting partnership. We hope that our fans and clients of Banc De Binary will be able to benefit from our work together over the course of the next year."
Banc De Binary has always prided itself with its connection to its community of traders. Through the sponsorship, Banc De Binary traders will enjoy unique opportunities to show their support of the club as well as receive signed merchandise, periodical ticket raffles, VIP experiences and additional exclusive promotions celebrating the partnership.
About BDB
Founded in 2012, Banc De Binary is one of the market leaders in binary options trading, and was the first Broker to be fully regulated. Headquartered in Cyprus, it operates across most of Europe. Banc De Binary is at the forefront of both customer care and regulation, and it invests heavily in compliance. Banc De Binary maintains a Civil Liability Insurance coverage from Lloyds, and is a member of the Investor Compensation Fund of Cyprus Investment Firms, which provides coverage for individual Retail clients.