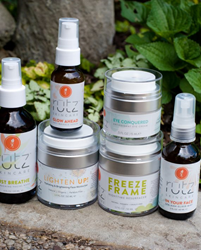 much of what we put on our skin ends up in our bodies, absorbed into our bloodstream and lymphatic system. Many of such harmful chemicals are molecularly small enough to penetrate the skin.
Pittsburgh, PA (PRWEB) September 02, 2016
(PITTSBURGH, PA – September 1, 2016) Rutz Naturals, (Rutz, LLC), a Pittsburgh-based brand of nature-centered skin care and home care products, announced today that it will be featured on EVINE, a shopping destination and curator of video content (evine.com) on September 2 at 7 p.m. (EST.) Two of Rutz' best sellers, Glow Ahead an anti-wrinkle serum containing 1% Retinol, and Freeze Frame, an intensive night-time skin resurfacer containing 10% Glycolic Acid, will be showcased in a live presentation. These mindfully made products contain natural, botanical—yet effective—ingredients and are paraben-free and cruelty-free. Packaging is BPA-free.
Rooted in the philosophy that we should think of skincare products as food for our skin, Rutz founder and Pittsburgh resident, Stephanie Schuler, notes that, "much of what we put on our skin ends up in our bodies, absorbed into our bloodstream and lymphatic system. It's unfortunate that mainstream skin care, body care and household cleaning products that touch our skin often contain a cocktail of carcinogens and irritants. Many of such harmful chemicals are molecularly small enough to penetrate the skin. Also, studies have found the face to be several times more permeable than most body surfaces."
Based on the belief that effective skincare doesn't require harmful synthetic ingredients, Schuler, 39, decided to create a plant-based brand (hence the name "Rutz," pronounced "roots") to give consumers skincare products that blend the best of science with ingredients straight from the lab of Mother Nature. We understand the gifts that nature has to offer, the wisdom of technology, and the amazing results when they work together, rooted in harmony, balance and goodness.
Plant-based skincare has been a part of Schuler's life since childhood. While some moms and daughter made cookies, Schuler and her mom, more than half Native American Indian, made all-natural lotions and body scrubs using only botanical ingredients and aromatic essential oils.
Since its 2013 inception, Rutz (rutznaturals.com) has continued to expand its line of nature-based, biocompatible skincare products. Schuler has sourced natural and organic ingredients for her line to promote cellular turnover, heal acne, boost skin's moisture levels and improve appearance of fine lines, wrinkles and hyperpigmentation—generally known as sun spots, age spots or sun damage. Many Rutz products contain highly effective, plant-based ingredients such as botanical hyaluronic acid, alpha hydroxy acids (AHA's), antioxidants, and/or the highest levels of glycolic acid available without a prescription. Meeting consumer preferences, products are either unscented or lightly scented with essential oils.
When asked about the essence of the Rutz (pronounced Roots) brand, Schuler explains that, "'goodness' is literally at our roots. That extends far beyond the active, biocompatible, botanical and organic ingredients we carefully select for our products. Our brand is injected with creativity and life energy. We believe in balance and the power of being authentic, good-hearted and good-natured in all at we do at Rutz. We treat others the way we want to be treated—with respect, honesty and a big dose of light-hearted fun."
Schuler, a veteran beauty and skincare expert and practicing Reiki Master, has appeared on Star 100.7 FM's "The Bubba Show," the Youngstown Ohio "Jess Briganti Today Show" on WFMJ-TV, and "The Louie b. Free Radio Show." She has also been featured in Pittsburgh's Whirl Magazine, Mount Lebanon's MTL Magazine, champagnetocrayons.com's Women in Business Series as well as several other beauty blogs.
To see Rutz on EVINE, the show can be streamed on September 2, 2016 at 7 p.m. (EST) via mobile device here: http://bit.ly/RutzEvineLive .
About Rutz: Rutz products are made in the U.S. using natural, organic and biocompatible ingredients and no parabens. All Rutz products are lovingly infused with Reiki energy. Packaging is BPA-free. A portion of the proceeds benefits local charities.