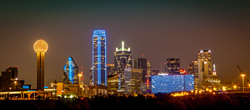 There is no test to detect ovarian cancer.
Dallas, TX (PRWEB) September 01, 2016
To kick off September as National Ovarian Cancer Awareness Month, the NOCC Dallas/Fort Worth Chapter and Be The Difference Foundation's 2nd Annual Teal Lights Display will be lighting the Dallas skyline teal on Thursday, September 1, 2016. The display will feature the OMNI Dallas and the Bank of America Plaza aglow in teal.
Termed "the silent killer," ovarian cancer continues to be the deadliest of all gynecologic cancers. According to the American Cancer Society, a woman's risk of getting ovarian cancer in her lifetime is approximately 1 in 75. This year it is estimated that approximately 22,000 women will receive a new diagnosis of ovarian cancer, and 14,000 will die.
"Ovarian cancer is more than a woman's disease®," says David Barley, CEO of the National Ovarian Cancer Coalition. "We see families torn apart with the loss of a mother, wife, sister, daughter, grandmother."
There is no test to detect ovarian cancer. A Pap test does not detect the disease. The symptoms are subtle and can mimic those of unrelated conditions. For these reasons, the diagnosis of ovarian cancer most often occurs in later stages of the disease, when the prognosis is poor.
The symptoms include bloating or sudden weight gain, abdominal pain, difficulty eating or feeling full quickly, and feeling the need to urinate urgently or often. It is recommended that a woman who experiences symptoms that persist for more than two weeks see her doctor, and a gynecologic oncologist if ovarian cancer is suspected.
If diagnosed early, ovarian cancer is treatable. The key to early diagnosis is awareness. It is imperative, that the signs and symptoms of ovarian cancer are recognized and considered, not only by women, but by their loved ones, as well as medical providers.
ABOUT THE NATIONAL OVARIAN CANCER COALITION
For nearly 25 years, the National Ovarian Cancer Coalition has been committed to raising awareness, promoting education, and funding research in support of women, families, and communities touched by ovarian cancer. NOCC is well-established as an important national advocate for patients and families struggling with ovarian cancer. NOCC remains steadfast in its mission "to save lives by fighting tirelessly to prevent and cure ovarian cancer, and to improve the quality of life for survivors." For more information, please visit http://www.ovarian.org and follow NOCC on Facebook, Twitter, Instagram, Pinterest, and YouTube.
ABOUT BE THE DIFFERENCE
The Foundation was formed by four ovarian cancer survivors in different phases of survivorship who all share the same passion, to Be the Difference and end the fight against ovarian cancer. Our mission is to help women increase their chance of survival of ovarian cancer. To achieve this goal, our efforts are focused on raising awareness and money to fund programs for women fighting ovarian cancer today and to provide research dollars for a cure. For more information please visit http://www.bethedifferencefoundation.org/ and follow Be The Difference on Facebook, Twitter, Instagram and YouTube.
Contact:
NOCC DFW Chapter Manager – Sarah Harris
sharris(at)ovarian.org, 214-273-4208
Be The Difference Marketing and Public Relations Manager – Loren Childress
lchildress(at)bethedifferencefoundation(dot)org, 214-466-1561