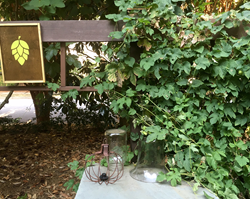 It is my hope that through education and open gardens homeowners can see firsthand what other like-minded gardeners and nature lovers are doing to 'Bee Better.'
Raleigh, NC (PRWEB) September 02, 2016
On Saturday, Sept. 10, Super-Sod's salesperson, landscape consultant and workshop instructor will welcome garden enthusiasts to her garden for the first Bee Better Tour in Raleigh and Cary, North Carolina.
An avid horticulturalist, Shannon Hathaway maintains an organic garden, Green Heron Sanctuary.
"My garden has provided sanctuary over the years to many species of animals, but its most famous residents were a pair of green herons. They nested here for six years and raised their young in the garden," Hathaway said.
The sanctuary boasts an eclectic look that incorporates repurposed items, edible landscaping, an inviting wildlife habitat and flowering perennials to attract pollinators.
As part of her organic gardening for the health of pollinators, wildlife and her family, Hathaway uses Super-Sod's Soil3 organic compost as topsoil and fertilizer in her garden.
"I grow many edibles, including herbs, figs, tomatoes, sweet potatoes, peppers, blueberries and hops — all grown in Soil3!" Hathaway said. "I always grow enough to share with friends and with the wildlife."
At the Green Heron Sanctuary stop, tour participants will have the chance to win a cubic yard of Soil3 organic compost for their own gardening projects.
Delivered in a signature BigYellowBag, Soil3 is created on Super-Sod's turfgrass farms in Georgia and South Carolina. Wheat straw, manure from local dairies and grass clippings from the farm are the only ingredients featured in this multi-functional organic compost used to add nutrition, improve moisture retention and build better soil structure.
The Bee Better Tour annual garden tour is a fundraising and awareness event for Bee Better, a nonprofit education foundation in the Triangle of North Carolina. The garden tour will last from 10 a.m. until 4 p.m. with stops at eight locations throughout Raleigh and Cary, including a beehive opening. All of the tour gardens are pesticide-free and attract birds, bees and/or butterflies. Tickets are $10 and can be purchased online at the Bee Better website.
"It is my hope that through education and open gardens homeowners can see firsthand what other like-minded gardeners and nature lovers are doing to 'Bee Better,'" said Helen Yoest, director of Bee Better.
The Bee Better foundation seeks to help homeowners build better backyards for birds, bees and butterflies through addressing needs in food, water, cover and places for the pollinators to raise their young.
Super-Sod, a subsidiary of Patten Seed Company, is a family run business that employs experts in turf and horticulture. Super-Sod continuously develops new garden products; fosters gardening and landscaping; and seeks improvement in farming practices, technology, environmental stewardship and employee knowledge. There are two Super-Sod stores in The Triangle area, located in Raleigh and Cary, North Carolina. For more information, contact them at 919-836-0492.