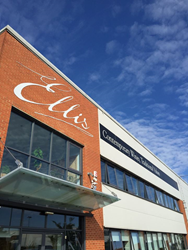 Investment in the WMS from OBS Logistics, is our next step in being able to provide a customer service that is as good as it gets.
London (PRWEB UK) 5 September 2016
'Customer service is core to us,' stated Robert Ellis, Operations Director. 'We pride ourselves on our customer service. For us, this investment in the WMS from OBS Logistics, is our next step in being able to provide a customer service that is as good as it gets. It will help us to streamline our processes, and add another level of quality management into what is a very complex warehousing process.'
OBS Logistics were selected to implement the CALIDUS system after a thorough tendering and selection process. The reasons given by the team at Ellis of Richmond for the selection included, but were not limited to, the stability of OBS Logistics, the proven technology behind the CALIDUS WMS, the extensive range of customers we worked with, and there was a good fit, with the Ellis team commenting that they felt they could work well with the people at OBS Logistics.
The CALIDUS solution will interface with the existing ERP system, adding an enhanced level of capabilities which include being able to manage bulk and single item pick from bond for duty suspended orders, with payment of duty on despatch, allowing the use integration of RF handheld barcode readers, smoothing out workflow, optimisation of space in the warehouse and automated replenishment.
For more information of the CALIDUS Warehouse Management System from OBS Logistics, please visit http://www.obs-logistics.com.
End
1st September, 2016
For more Information contact:
Stephen Haycock, Director of Marketing, OBS Logistics
Stephen(dot)haycock(at)anisagroup(dot)com
Tel: +44 (0)207 881 2500
About OBS Logistics
OBS Logistics provides Warehouse Management Software and Transport Management Software to help manage complex logistics and supply chain operations. Our CALIDUS Total Logistics Software solutions and mobile solutions are used by leading 3PL providers and owner operators to deploy lean enterprise concepts. Over 11 million Transport orders are processed through OBS Logistics managed services annually, helping our customers to control costs, increase visibility and measure performance. OBS Logistics customers include British Gas, Carpetright, DHL, Hanson, NHS Blood & Transplant, Potter Group, Wickes and Wincanton. OBS Logistics is part of the Anisa Group of companies.