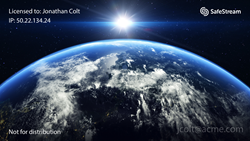 We've had many requests for an invisible alternative for situations when a visual mark may be interruptive to the viewing experience. We're thrilled to be able to incorporate ContentArmor's groundbreaking forensic watermarking technology into SafeStream.
Boston, MA (PRWEB) September 06, 2016
Secure video sharing platform MediaSilo, provider of SafeStream, an on-demand watermarking solution that embeds user-identifiable information as a visual watermark into video files in real-time, today announced a partnership with ContentArmor to integrate that company's lightning-fast forensic watermarking technology into the service.
With piracy on the rise in media and entertainment, global companies including BBC, ITV and Hulu are using SafeStream to protect pre-release content without the traditional costs and delays inherent to traditional watermarking techniques, including the distribution of DVD screeners. SafeStream can apply a visual digital watermark in just seconds, with personal information attributable to the viewer.
"We've seen tremendous response to SafeStream, and our clients are now using it to introduce accountability into everything from rough cut review to the sales process to press screeners," says Kai Pradel, CEO of MediaSilo. "But we've had many requests for an invisible alternative for situations when a visual mark may be interruptive to the viewing experience. We're thrilled to be able to incorporate ContentArmor's groundbreaking forensic watermarking technology into SafeStream, making it a flexible, holistic solution for all stages of the production process."
ContentArmor's forensic watermarking is the only product in the market that operates directly in the content bitstream. ContentArmor embeds a trackable but invisible watermark near instantaneously without compromising video quality. The solution does not require additional storage and/or bandwidth and offers the best fidelity-robustness trade-off for high value content creation and distribution.
"The stakes are too high to cut corners and leave your content unprotected at any point during production or distribution," says ContentArmor CEO Alain Durand. "MediaSilo shares our philosophy that watermarking should be fast, cost-effective and thus ubiquitous. We are excited to reach a broader audience in Hollywood now that our forensic solution is available as part of SafeStream."
SafeStream is available on a standalone basis and can be integrated directly into existing workflows, such as media management systems, screening rooms or Apple TV Channels. It's also immediately available as part of MediaSilo's collaboration and media management platform. Clients can choose to apply visible or forensic watermarking – or some combination thereof -- to any file, during any phase of the production process.
The combined offering presents many advantages over existing watermarking techniques:

Instant watermarking. From short clips to feature length movies, video files are uniquely watermarked in seconds. Conventional watermarking can often take as long as the playback duration of a file, making it impractical for most workflows that depend on quick turnaround times.
True cross-platform security. Unlike DRM tools, SafeStream and ContentArmor do not require proprietary player software, which means they work out of the box on mobile devices and in web browsers.
Total flexibility. SafeStream provides a visual deterrent that clearly identifies users by their name, email, IP address or subscriber ID. Various options exist to customize the watermark duration, placement and look. ContentArmor provides an additional tracing layer by inserting an invisible identifier that survives any subsequent processing of the video asset.
See SafeStream and learn more about ContentArmor's unique digital watermarking technology at this year's IBC Exhibition in Amsterdam, from September 9th-12th at booth A.36 in Hall 2.
About MediaSilo
MediaSilo's flexible video sharing platform empowers storytellers around the world to collaborate and present in the way that works best for them. MediaSilo sits in the center of the video lifecycle, working with clients' existing tools and workflows to keep teams connected, assets secure and content beautifully and seamlessly presented. Whether a professional is producing video within a media company, agency or brand, the MediaSilo platform handles encoding and playback, review and approval, and media management, combining enterprise-level security and on-demand watermarking with elegant usability. MediaSilo, with offices in Boston and Los Angeles, is the creator of SafeStream, a patent-pending technology that protects video assets with personally identifiable visual watermarks, applied in real time.
About ContentArmor
ContentArmor SAS, a privately held French company, is a global provider of content protection technologies for the media industry from content production to end-user distribution. ContentArmor's Video Watermarking solution operates directly in the content bitstream, resulting in blitz-fast embedding. The technology enables integration at any point of the distribution chain, including low computational power CE devices such as set-top boxes, tablets, smartphones, and requires only marginal additional bandwidth or storage.