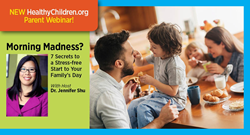 "During this busy time of year, mornings can get chaotic," said Dr. Shu. "By following a few simple guidelines, parents can establish a manageable morning routine, including a healthy breakfast, and still get out the door on time."
Chicago (PRWEB) September 09, 2016
The American Academy of Pediatrics (AAP) and its parenting website, HealthyChildren.org, present their first webinar for parents on September 12, 2016 at 12 pm Central Daylight Time.
The free webinar, "Morning Madness? 7 Secrets to a Stress-free Start to Your Family's Day," will be hosted by Jennifer Shu, MD, FAAP, Medical Editor of HealthyChildren.org. Dr. Shu will offer parents easy tips for surviving the a.m. rush, with a focus on good sleep and proper nutrition.
"During this busy time of year, mornings can get chaotic," said Dr. Shu. "By following a few simple guidelines, parents can establish a manageable morning routine, including a healthy breakfast, and still get out the door on time."
The webinar will run 45 minutes and will include audio and visual elements. Dr. Shu will participate in a question and answer session with parents following the presentation.
To access the webinar, parents should register at https://cc.readytalk.com/r/gbpjmujcwruf&eom
About HealthyChildren.org
The only parenting website backed by 66,000 American Academy of Pediatrics member physicians, HealthyChildren.org offers trustworthy, up-to-the-minute health advice and guidance for parents and caregivers, along with interactive tools and personalized content. The site also offers a Find a Pediatrician service, an Ask the Pediatrician tool, the KidsDoc Symptom Checker, and thousands of articles on children's health and safety in English and Spanish. Registered users receive a free bi-weekly e-newsletter, a customized home page, and special offers.