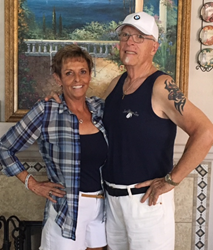 We feel very fortunate to be able to get access to cannabis oil in our state.
Raleigh, NC (PRWEB) September 02, 2016
A law approved by the California state legislature could have an impact on mesothelioma patients who rely on medical marijuana. Surviving Mesothelioma has more on the new law and one mesothelioma patient who would be impacted. Click here to read it now.
The proposed law before the California governor would regulate the manufacture of medical marijuana, requiring that it either be processed without solvents or with nontoxic solvents.
California pleural mesothelioma patient Andy Ashcraft, a six-year mesothelioma survivor, is just one of thousands of patients whose cannabis oil could be safer if the bill is approved.
Ashcraft consumes one gram of cannabis oil daily as part of his alternative mesothelioma treatment protocol. Ashcraft's regimen also includes acupuncture, massage, healthy living and other natural oils.
"So much of the medical profession still doesn't want people using medical marijuana," Ashcraft told Surviving Mesothelioma in an interview. "But we feel very fortunate to be able to get access to cannabis oil in our state."
"Although the scientific research is still catching up, centuries of marijuana use as an alternative medical treatment suggests that cannabinoids can have some very definite benefits for people with malignant mesothelioma and other cancers," says Alex Strauss, Managing Editor of Surviving Mesothelioma. "We are encouraged by legislation which promises to make medical marijuana safer for mesothelioma patients who wish to incorporate it into their own treatment regimens."
To read more about the proposed California legislation and Andy Ashcraft's mesothelioma survivor story see Changes in Medical Marijuana Laws Could Impact Mesothelioma Patients, now available on the Surviving Mesothelioma website.
McGreevy, Patrick, "New processing standard for medical marijuana would be set under bill sent to governor," August 31, 2016, Los Angeles Times website, http://www.latimes.com/politics/essential/la-pol-sac-essential-politics-updates-medical-cannabis-processing-standards-1472686726-htmlstory.html
For nearly ten years, Surviving Mesothelioma has brought readers the most important and ground-breaking news on the causes, diagnosis and treatment of mesothelioma. The information in this article is not a substitute for professional medical advice, examination, diagnosis or treatment. You should always seek the advice of your physician or other qualified health professional before starting any new treatment or making any changes to an existing treatment. You should not delay in seeking or disregard medical advice based on information in this article. Cannabis oil is NOT FDA approved for the treatment of any cancer.