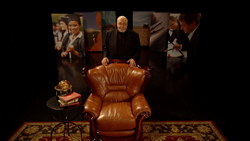 (PRWEB) September 02, 2016
James Earl Jones brings his signature voice and authoritative presence to "Front Page," a mini documentary series designed to educate, enlighten and spark conversation about groundbreaking stories and the salient issues of the day. As host, the award-winning and critically-acclaimed actor leads the topic of the Climate Change in the short-form episode.
Climate Change refers to a variety of global issues that may affect the inhabitants of the planet for extended periods of time. Things such as changing weather patterns for long periods and rising global temperatures are symptoms of climate change that can negatively impact all creatures. Scientists attribute several causes such as solar radiation, variations in the planet's orbit, and continental drift among others. The issue most pertinent to human's impact on climate change is our unnatural creation of large amounts of greenhouse gases. The primary greenhouse gases found in our atmosphere are water vapor, carbon dioxide, methane, nitrous oxide and ozone. Since the Industrial Revolution, people have caused a 40 percent swell in the atmosphere's carbon dioxide. If not checked, climate change may result in irreparable harm to our life-supporting biosphere. Climate change is the singular most important global problem facing humanity today.
"Front Page" segments are created for public television and offered to stations throughout the United States. The team works with strategic partners and media distributors to produce stories about the salient issues of the day. The mini documentaries are of high definition quality and are pre-approved to meet industry standards before airing. In conjunction with host James Earl Jones, "Front Page" works with an award-winning group of writers, producers and videographers. The show is independently released and produced and is not affiliated with PBS or APT.