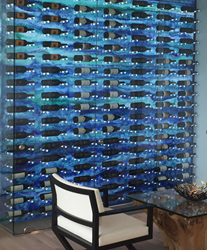 "People don't realize how much time and cost can be saved by using these materials."
Florence, Kentucky (PRWEB) September 01, 2016
Aristech Surfaces®, a global surfacing materials company, announced today that it is introducing 12 all-new architectural and design materials under the Studio Collection™ by Avonite Surfaces. The new collection features designs with movement and texture, ultra-translucency, and terrazzo-inspired looks that bring a unique aesthetic for interior design use.
These newly formulated polymer materials, which combine a striking design look with a formable, repairable, and seamable surface, are ideal design alternatives to higher-cost surfaces such as concrete and glass, onyx, and other translucent PMMA and HDPE-filled resins. Applications include room dividers and partitions, store fixtures, column wraps, illumination, countertops, and accent pieces where lighting and aesthetics are key elements of design.
"The new Studio Collection represents a next generation of design materials, giving customers a competitive edge in design and functionality," said Kristina Morgan, Global Marketing Manager for Aristech Surfaces. "Other materials such as concrete and crushed glass can be very expensive, have design limitations, and we've found installation can cost two to three times as much. With the increasing design trend of translucency and texture, our veined translucent colors are a true innovation in the surfacing industry."
Designers are quickly specifying these products for use in commercial applications. "Longevity, ease of install, and custom design without a custom price tag," said the designer, who worked closely with R&R Millwork and Aristech Surfaces on the installation of the new Crushed Garnet color in a chain of restaurants. "People don't realize how much time and cost can be saved by using these materials."
The twelve new colors are categorized into three different collections. The Elements series includes the new translucent veined colors Tempest, Ocean Breeze, Jet Stream, and Rose Quartz; The Mosaics series: Terrazzo and Crushed Garnet; and the Frosted Glass series: Citron, Harbor Fog, Catalina, Pewter, Grenadine, and Pure Aqua. Custom colors are also available through the company's Chromatix™ program.
Availability:
Products are available for sale in North America through Aristech Surface's distribution network. Visit http://www.avonite.com/new-studio-collection-colors/ to see all the new designs and to order a sample. Visit http://www.avonite.com/locate-a-distributor/ for a distributor in your region to learn more about pricing and availability.