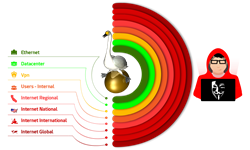 Too good to be true? Look at the animations, they quickly inform.
Sacramento, CA (PRWEB) September 02, 2016
Golden Goose Security launches network security services to protect high value servers showing animations that demonstrate security techniques using new Hop Sphere Radius Security methods. Recent announcements of Cisco Firewalls found exploitable means organizations requiring mitigation will require solutions as Golden Goose Security's Hop Sphere Radius Security to mitigate problems caused by millions of now exploitable firewalls.
August 24th Cisco updated Security Advisory to include new ASA Firewalls, in addition to older out of support firewalls were found exploitable.
Cisco Security Advisory CVE-2016-6366
Protecting high value servers from network security breach even when firewall protection fails is our mission and it's never been more relevant. Firewall exploit announcements by Cisco escalated already high concerns about firewall protection and security breaches.
Internet Protocol (IP) of TCP/IP employs powerful constraints to limit the time a packet can live in the network. These new animations illustrate ways Time To Live and Router Hop features appropriately applied stop hackers from even getting a login prompt on high value servers - even when the firewall has failed.
New Hop Sphere Radius Security Design Thwarts Trojan Virus Attempts.
Hop Sphere Radius Intro (40 seconds)
Golden Goose Security Defines Which Servers Require Protection.
What Defines A Golden Goose Server? (silent)
Hop Sphere Radius Security Provides Options Which Stop Far Away Hacker Communication.
More news from the new security breach protection blog or schedule an appointment to discuss Hop Sphere Security at GoldenGooseSecurity.com