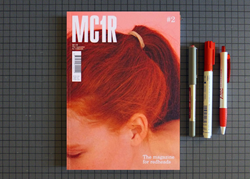 There are a lot of things redheads have in common, for example the special way how people use the hair in art.
(PRWEB) September 01, 2016
MC1R, the world's first and only print magazine for redheads, is live on Kickstarter and raising funds to bring the project to life.
MC1R is an independent art based and design forwarded international project round about the culture of red hair. Each issue deals with red hair and everything relating to it. The approach of the magazine is diverse and all- encompassing, making it about more than simply a hair color. Features cover everything from contemporary art and fashion editorials, through interviews with musicians and designers, to stories about everyday life, current events or a full new networking culture.
"At first there was the idea to realize a photography project with a few friends who all had red hair. After a few weeks I interviewed and photographed a few more people and got a few interesting points of view on this topic. Out of interest I looked into how much it would cost to print a few private copies of this collected work as a small magazine for the people who've been part of this project," says creator and publisher of the magazine, Tristan Rodgers. "It turned out that the print costs for 20 easy printed copies was very close to 500 copies in offset print, so I decided to start a crowdfunding campaign to see whether anyone else would be interested in reading something like this and there have been enough preorders to realize the idea."
MC1R has already been awarded "Newcomer Magazine of the Year," in Germany by Lead Academy. Notable redhead personalities who have already been featured in previous issues include Hattie Watson, Lily Cole, Larsen Thompson, Maja Topcagic, Tim Lahan, and more. The magazine has already worked with close to 100 international artists.
Each copy of MC1R purchased through the campaign will be a print only coffee table "bookazine" with 160 pages of high quality paper in English. Included are 20 different stories minimum with professional photographs, illustrations, and designs. In addition, a new view on cultural networking around red hair, exclusive reports by redheads for redheads, and background stories from the creators of big blogs and redhead gatherings.
"I think as a redhead myself, it would be cooler to answer that nothing is special and redheads are normal like every black, white, asian and hispanic looking person too, but that would be too easy and is a wishful thinking. Redheads are one of the smallest minorities all over the world and they have this special look almost every people see or react on. It is natural and in different cultures the people react on way you look, so if you are white with freckles and bright red hair, you may polarize in first," adds Rodgers. "I don't try to put a focus on discrimination or something like that, I think that was told enough with a lot of past projects people made. There are a lot of things redheads have in common, for example the special way how people use the hair in art and often redheads have this special kind of connection to this topic, so there is this special vibe I try to catch and reflect with this project."
The MC1R Magazine for Redheads is currently live and available to support on Kickstarter: http://kck.st/2bVN9Mg
About MC1R
MC1R is a magazine created especially for redheads; each issue deals with red hair and everything relating to it. The approach of the magazine is so diverse, so all- encompassing, that it's about more than simply a hair color. Features cover everything from contemporary art and fashion editorials, through interviews with musicians and designers, to stories about everyday life, current events or a full new networking culture. For more information on MC1R please visit http://www.mc1r-magazine.com
###