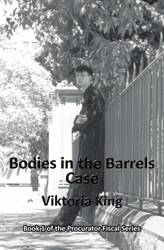 I wanted to provide readers with a darker, more thrilling crime drama.
PERTH, Western Australia (PRWEB) September 06, 2016
Sacrifices must be made by people working with the law in order to stay a step ahead. But how many is too many?
In "Bodies in the Barrels Case," author Viktoria King introduces readers to main character Lieb Canavan and his constant struggle to appease new wife Rose, keep up with his job and now solve this mystery that has taken over both sides of his life. King brings it all to the table with this graphic and entertaining crime novel while also encouraging readers to take more time for themselves and to not take the life they have for granted.
"I wanted to provide readers with a darker, more thrilling crime drama," King said. "Most crime dramas just touch on what an actual procurator fiscal would see, but I think providing all the details is more entertaining."
King puts a new twist on crime drama and brings it to the forefront with the first of her four book series that will leave readers begging for the next installment. With real, Scottish locations used, King's knowledge of the local area and its interesting landmarks shine through the gore of the crimes.
"Although I live in Australia, my roots and my family are in Scotland," King said. "Finding a location that would interest and even encourage the readers to travel was easiest part."
For more information, visit http://www.viktoriakingbooks.com/
"Bodies in the Barrels Case: Book 1 of the Procurator Fiscal Series"
By: Viktoria King
ISBN: 978-1-5144-4508-2
Available in softcover, hardcover, e-book
Available on Amazon, Barnes & Noble and XlibrisAU
About the Author
Viktoria King lives in Perth, Australia with her husband and son, but has spent much of her life traveling the world. With Scottish roots and a job that allowed her to travel, King spent time in Singapore, the United Kingdom and Canada before calling Perth home.
# # #
For review copies or interview requests, contact:
Elizabeth Coomer
317.602.7137
ecoomer(at)bohlsengroup(dot)com