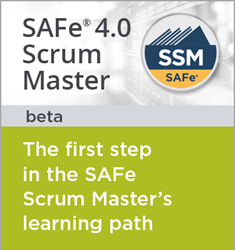 Scrum Masters are critical players in a Lean-Agile enterprise and can make all the difference when it comes to an effective SAFe implementation
Boulder, Colorado (PRWEB) September 01, 2016
Scaled Agile, Inc. (SAI), provider of the Scaled Agile Framework® (SAFe®), today announced the launch of a beta program for a new certification: SAFe 4.0 Scrum Master (SSM). Unlike traditional Scrum Master training that focuses on the fundamentals of team-level Scrum, this course is for professionals who want to gain an understanding of the role of Scrum in the context of the entire enterprise, and learn how to coach teams to deliver the maximum business value that is achievable through SAFe.
Designed for those new to the role of Scrum Master, the two-day course prepares Scrum Masters to take a leadership role in facilitating Agile teams' success in a SAFe implementation. Students will learn how to facilitate iteration planning and effective iteration execution. They will also learn the key components of scaled Agile development, how Scrum is facilitated throughout the enterprise, and how to build high-performing Agile teams through servant leadership and coaching.
"Scrum Masters are critical players in a Lean-Agile enterprise and can make all the difference when it comes to an effective SAFe implementation," said Inbar Oren, SAFe Fellow and Product Owner for the SAFe 4.0 Scrum Master course. "Their performance and knowledge of SAFe is essential when it comes to producing optimal results for the business. Traditional team-level Scrum practices are not enough. As a Scrum Master in a scaled Agile environment, they need to foster collaboration and synchronization between the teams in the program."
Chris James, Scaled Agile's President and Chief Operating Officer, noted, "The SAFe 4.0 Scrum Master certification is the next, most important step in the build-out of Scaled Agile's role-based curriculum. As the demand for SAFe training and certification accelerates globally, we are focused on providing world-class courseware that is designed to produce the most consistent and predictable results throughout the enterprise. Combined with Advanced SAFe 4.0 Scrum Master (SASM), this latest offering completes the Scrum Master learning path within SAFe."
A SAFe 4.0 Scrum Master beta class is being held September 27–28 in Pittsburgh, PA through Scaled Agile's Gold Partner, Summa Technologies. Information about the course, and a sign-up form for those wanting to be notified when public classes are available can be found at scaledagile.com/scrum-master. The Scrum Master learning path will also be featured at the upcoming 2016 SAFe Summit being held October 25–28 in Denver, Colorado as part of Scaled Agile's Course Delivery Enablement program for SAFe instructors. Registration and details can be found at safesummit2016.com/schedule/training-day.
With the addition of SAFe 4.0 Scrum Master, Scaled Agile's portfolio now includes seven professional credentials designed to meet the needs of Lean-Agile professionals throughout their career as they practice, consult, or train others in SAFe.
About Scaled Agile, Inc. (SAI):
Based in Boulder, Colorado, Scaled Agile's mission is to help large enterprises achieve better outcomes, increase employee engagement, and improve business economics through adoption of Lean-Agile principles and practices based on the Scaled Agile Framework® (SAFe®). SAI supports tens of thousands of practitioners of the Framework through training, certification, consulting services, and a global partner network that reaches over 35 countries and 350 cities. As a contributing member of the Pledge 1% corporate philanthropy movement, SAI also seeks to inspire, facilitate, and encourage other companies to make a positive impact in their community.
Learn about Scaled Agile at scaledagile.com
To view SAFe case studies, visit http://scaledagileframework.com/case-studies/
Media Contact:
Regina Cleveland, Director of Communications
+1.720.477.1756
Regina.Cleveland(at)scaledagile.com