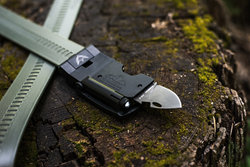 Sacramento, California (PRWEB) September 01, 2016
With a passion for quality and an itch for innovation, SlideBelts has been making leather ratchet belts for almost a decade. Now, with the launch of the Survival Belt the company has crafted its core product's concept for the ultimate outdoorsman.
The Survival Belt has been a passion project of the company for over 3 years, initially introduced on the hugely popular crowdfunding site, Kickstarter. Their 2014 campaign was very successful, raising over $200,000 from backers excited about SlideBelts' new everyday carry accessory.
The features of the Survival Buckle are what makes this belt truly one-of-a-kind, with an integrated folding stainless steel knife, a bottle opener, an LED flashlight and a ferrocerium fire starter rod all housed within the buckle. Free from the constricting holes that have plagued traditional belts, the Survival Buckle locks into the notches on the underside of the strap, providing a super comfortable fit and a long-lasting belt. Proudly made in the USA, the Survival Strap has high-tensile strength and is built to withstand the harshest elements and the toughest treatment.
The company boasts quality, style and functionality as the calling card of all their products, and their new Survival Belt is no exception. The result of years of blood, sweat and tears is one of the most unique wearable tech products on the market.
For those adventurous enough to brave the most extreme terrain, SlideBelts set out to incorporate survival essentials into an everyday wearable accessory, allowing you to carry less and adventure more.
About SlideBelts:
SlideBelts is a wearable tech company that designs, manufactures and sells innovative ratchet belts without holes for the perfect fit every time. With interchangeable leather for custom styling and a low profile ratchet buckle for simplicity, SlideBelts is crusading to bring back the belt as a subtle fashion accessory – an essential wearable that ties it all together. Founded in 2007 by Brig Taylor, the company was born in the blood and fire of e-commerce. SlideBelts' current product offerings include high-quality leather belts with a patented ratchet system in place of traditional belt holes.