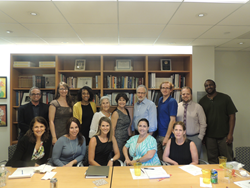 Being able to work closely with Generations United and draw on that experience has enabled DOROT to better execute its mission
(PRWEB) September 06, 2016
In August, Donna Butts, the Executive Director of Generations United, and several key staff members traveled to Manhattan to meet with DOROT's leadership team. Generations United is an important national organization in Washington, DC whose mission is to "improve the lives of children, youth and older people through intergenerational collaboration, public policies, and programs for the enduring benefit of all."
For the past 40 years, DOROT has made it a priority to foster intergenerational connections with seniors. As such, many of DOROT's programs include intergenerational components. Generations United has recognized that dedication to intergenerational programming by naming DOROT a Program of Distinction. "This designation…serves as the U.S. benchmark for intergenerational programs and is based on the criteria that underpin the effectiveness of any intergenerational program."
At the meeting, representatives from DOROT and Generations United discussed best practices as well as model intergenerational programs and what specifically makes their programming successful. The Generation's United Team highlighted the fact that intergenerational programming is central to DOROT's mission.
Ms. Butts also added the following about DOROT's intergenerational programming: "I do believe that [DOROT is] probably one of the best [intergenerational organizations] in the country, especially with visiting. We always point to you, because there is a lot that you folks do very very well." DOROT's Friendly Visiting Program (to which Ms. Butts is alluding), brings volunteers of all ages together with older adults. This creates an opportunity to bring the generations together to learn from one another while working to alleviate social isolation, which is also central to DOROT's mission.
"Generations United has a rich history of advocating for intergenerational programming," says Mark Meridy, the Executive Director of DOROT. "They have a well of valuable experience, and being able to work closely with Generations United and draw on that experience has enabled DOROT to better execute its mission."
DOROT's Mission is to alleviate social isolation among the elderly and provide services to help them live independently to as valued members of the community. We serve the Jewish and wider community, bringing the generations together in a mutually beneficial partnership of elders, volunteers and professionals. Our work provides an effective model for others.