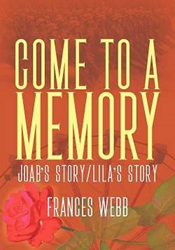 "This sensitive tale takes a look back at pre-World War II America, and also looks at how two children coped with disdain from others for being different." - Robert Fletcher, CEO of Strategic Book Publishing and Rights Agency
(PRWEB) September 16, 2016
Set in northern New Jersey just before World War II, "Come to a Memory: Joab's Story/Lila's Story" is the touching tale of two classmates who are both bullied in school, but for very different reasons.
When Joab arrives as the new kid in Lila's fourth grade class, he is greeted with scorn because he's a half-Jewish refugee from Germany. Everyone knows that Germany is the enemy in the faraway war in Europe. Joab talks funny and dresses differently from the other kids. He also has a black number burned into his arm.
The teacher sits Joab next to Lila, another student who is belittled by her classmates. She comes from a poor family, wears old-fashioned clothes, and her grandfather is known as the town fool.
How will Joab and Lila survive? Can these two bullied children bond against their enemies and forge a friendship, one that will help them overcome all the odds? Joab's Story/Lila's Story will bring tears and cheers.
Watch the video at: https://youtu.be/luI3iVe6eJo
"This sensitive tale takes a look back at pre-World War II America, and also looks at how two children coped with disdain from others for being different. I highly recommend this stunning narrative, and we are most pleased to announce its release," said Robert Fletcher, CEO of Strategic Book Publishing and Rights Agency.
About the Author: Frances Webb grew up in a town similar to the one in her book and now lives in a Philadelphia suburb. This is her second book. Her first book was Innocence and Gold Dust.
Author's website: http://www.Franceswebb.com
COME TO A MEMORY: JOAB'S STORY/LILA'S STORY (ISBN: 978-1-68181-241-0) is now available for $30.50 and can be ordered through the publisher's website:
http://sbprabooks.com/FrancesWebb or at Amazon.com or Barnesandnoble.com.
WHOLESALERS: This book is distributed by Ingram Books and other wholesale distributors. Contact your representative with the ISBN for purchase. Wholesale purchase for retailers, universities, libraries, and other organizations is also available through the publisher; please email bookorder(at)sbpra(dot)net.