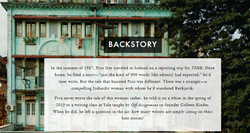 "When you turn in a story, you feel like you're only squeezing a third of the lemon." — Damien Cave, New York Times Editor
New York, New York (PRWEB) September 06, 2016
Off Assignment, a magazine of literary travel writing, recently launched the first of its online content, answering the demand for authors to enhance their published work with compelling experiences and details left unsaid. Forged by today's top journalists, essayists, and travel writers, Off Assignment is a publication dedicated to candid storytelling. The magazine, which grew out of a grassroots series of live storytelling events featuring writers such as Gay Talese and Sloane Crosley, now publishes a weekly series called "Letter to a Stranger," short essays about memorable strangers from past journeys. In its first weeks, the series has featured contributors such as New York Times bestselling authors Leslie Jamison and Lauren Groff, as well as memoirist Howard Axelrod and National Book Award winner Julia Glass.
This month, Off Assignment rolled out the first of its "Behind the Feature" stories: an expose by Pulitzer Prize nominee Ted Conover, who returns to his 2015 Vanity Fair feature about Guantánamo Bay with more candor and insight. (Listen to Ted's audio).
According to co-founder Colleen Kinder, Off Assignment is a response to a lack of mainstream outlets for the more personal elements of writers' reporting and travel experiences. After years of publishing in mainstream magazines and newspapers like the Wall Street Journal and the New York Times, as well as various literary magazines, Kinder began to feel that because of deadlines, pitch guidelines, and word constraints, the story that really mattered to her often did not make it into the published piece. Then, in 2013, a spark arrived: Kinder invited legendary travel writer Pico Iyer to her Yale writing class to speak about a 1987 piece he had written on Iceland for TIME. But Pico did something very different. He told the class the untold story of his trip that had haunted him for over fifteen years—the story of a stranger—a compelling Icelandic woman with whom he'd wandered Reykjavik.
Energized by Iyer's visit, Kinder wondered: how many writers are simply sitting on their best stories? So she asked several of her colleagues if they felt similarly. "I asked, when you turn in a story, do you sometimes feel there's a better, truer story left untold? The answer was more than yes, it was always," Kinder says.
The rest, as Off Assignment patrons say, is history. Kinder gathered a community of reporters, essayists, and travel writers in New York City, and together, they began "going off assignment," challenging each other and their fellow writers to do the same. They began hosting a non-profit reading series, which led to the successful launch of the online publication this summer. See Off Assignment's Facebook page to join the community.
"[Writers] are crying out for a medium like this," says Pico Iyer, who has remained a central figure in Off Assignment since he provided the initial inspiration. "[Off Assignment] is this minnow in a world of sharks, that actually has the capacity to be much larger and more important than many of the big [publications]."
In addition to continuing their "Letter to a Stranger" series, Off Assignment aims to grow both online and in print. At the end their upcoming Kickstarter Campaign, Off Assignment will publish a print volume showcasing works gathered over three years of asking its favorite writers to go "off assignment." The print volume will serve as an "artifact" of the magazine's evolution from grassroots project to publication, and introduce sections to later appear online.
Off Assignment - Where the Detour Begins
Founded in Brooklyn, New York, in 2015, Off Assignment expands the bounds of storytelling with writers who are breaking new ground in the travel writing industry with fuller accounts of their most compelling adventures. A 501(c)(3), the magazine is fully self-sustaining. To donate online, patrons may access the Off Assignment donation link. The Off Assignment editorial team may be reached at editors(at)offassignment(dot)com.