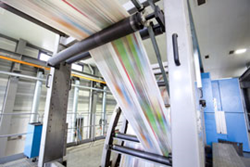 By adding this new digital press, we've ensured that even as more clients join us, we'll be able to offer the same speed, quality and flexibility that have become our calling card.
Denver, CO. (PRWEB) September 08, 2016
Lightning Labels is pleased to announce the recent purchase and installation of a new high-capacity digital press at its Denver, CO facility. This new equipment will help Lightning Labels serve its clientele with vibrant, full color custom labels and stickers. The enhanced capacity speaks to the brand's commitment to fast turnaround times and stunning quality. Even as the business grows, Lightning Labels will be able to provide timely and personal service to its customers.
Best-in-Class Hardware
The new press is the most efficient unit in its class, and is sure to put orders into customers' hands quickly. Lightning Labels owns its printing and finishing equipment, meaning no outsourcing of client orders. All label printing is carried out at the company's own facilities in the U.S.A. Keeping production within their own label production facilities ensures customers do not have to wait longer or pay extra shipping fees to get their orders. Quality and speed are under the sole control of Lightning Labels and their production facilities, ensuring every order gets the care it deserves.
Although Lightning Labels has both flexographic and digital capabilities within its label platform, the company is a leader among digital label printers. The Lightning Labels team believes in the ability of digital printing to provide consistent quality and fast turn times necessary to exceed their customer's expectations for speed and quality. By purchasing a state of the art custom label press and adding to its equipment lineup, Lightning Labels has stepped up its commitment to delivering high-quality, affordable and flexible label and sticker ordering for individuals and large international companies. The highly customizable nature of digitally printed labels and stickers ensures customers of all types will be able to launch their projects successfully.
"At Lightning Labels, our customers always come first," said Lightning Labels' Director of Business Development, AnneMarie Campbell. "By adding this new digital press, we've ensured that even as more clients join us, we'll be able to offer the same speed, quality and flexibility that have become our calling card."
Customer Service Scales Up
The physical hardware is not the only recent investment made by Lightning Labels. With more customers coming in, several members have joined the inside sales and customer service team. Along with the creation of a new outbound sales team, these personnel additions ensure our customer service will remain personal and best-in-class.
Business is growing for Lightning Labels, and by making investments in assets and human resources, the company will continue to provide top-quality products and customer service. Custom labels and stickers have near-unlimited uses for a variety of industries and projects, and new clients are sure to realize right away how Lightning Labels has achieved its current success.
About Lightning Labels:
Lightning Labels uses state-of-the-art printing technology to provide affordable, full-color custom labels and custom stickers of all shapes and sizes. From small orders for individuals to the bulk needs of big businesses, Lightning Labels is equipped to handle and fulfill custom label and sticker projects of all types. Best of all, like the name implies, Lightning Labels provides a quick turnaround for every customer's labeling needs. Uses for Lightning Labels' custom product labels and custom stickers include food packaging and organic food labels, wine and beverage labels, bath and body labels, and nutraceutical products, such as vitamins, essentials oils, and herbal remedies, as well as event stickers, adhesive window stickers and more. Lightning Labels strongly supports the development of environmentally friendly printing materials and carries EarthFirst PLA, a new kind of green label material made from corn instead of petroleum. While operating as a high-tech printer, Lightning Labels prides itself on its personalized customer service. Lightning Labels provides one stop shopping for all of your custom label needs. For more information and to place orders online, visit LightningLabels.com. For the latest in packaging news and labeling promotional offers, find Lightning Labels on Twitter (@LightningLabels), Facebook, Pinterest, Google+ and LinkedIn.