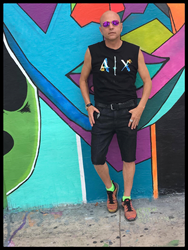 I have to pinch myself when I hear Mike Score, singing my words to such colorful melodies and fantastic production," states Robinson. "Mike is a musical genius. It is an extraordinary experience putting this whole project together
New York, NY (PRWEB) September 02, 2016
Thanks to a new music album collaboration with Jimmy D Robinson's Mind Juice Records, A Flock of Seagulls, the Grammy-winning new wave group that sky-rocketed to infamy with the '80s mega-hit "I Ran (So Far Away)," may finally be able to stop running and catch a breath! Lake Worth, Florida-based songwriter and prolific poet Jimmy D Robinson has curated an upcoming chill-out lounge and deep house album titled "Living in Time" starring A Flock of Seagulls. The new collection of down-tempo songs will mark the ever-popular group's 35-year anniversary in the music business. "Ageless Prince," the lead single, will be released this coming fall, accompanied by superb dance remixes for promotion in the U.S. and Europe.
"Once we start messing around with one of Jimmy's poems, we manage to work everyone's talented personalities into a jigsaw puzzle," says Mike Score, lead singer of A Flock of Seagulls. "The finished song really makes a picture of all of us in this collaboration. The music has a great lift with a relaxed feel. 'Living in Time' is quite beautiful!"
The "Living in Time" album will feature Robinson's published poetic works merged with an intricate weaving of musical talents between A Flock of Seagulls and internationally-acclaimed producers Josh Harris and FC Nond. It is with meticulous curation that Robinson sets every lavish production ablaze within the creative hub at Mind Juice Records. The end result of this experimental chillout lounge creative process is rhythmic mind and soul sustenance for listeners.
"I have to pinch myself when I hear Mike Score, singing my words to such colorful melodies and fantastic production," states Robinson. "Mike is a musical genius. It is an extraordinary experience putting this whole project together with such a renowned and significant band along with the persuasive and meticulous production of Josh Harris and the captivating rhythms of FC Nond."
Mind Juice Records is also releasing two brand new Robinson dance poetry music projects this year with diva songstress Carol Jiani. The first single is "Heaven Earth Man," featuring a remarkable production from Mauro Mozart and the second track will be the awe-inspiring belter "I Got This Feeling" produced by Moto Blanco.
There is a full interview with Robinson and Score out this month in Hollywood Weekly Magazine about Jimmy D Robinson's Mind Juice Records' collaboration with A Flock of Seagulls. To read the article, please visit: Hollywood Weekly Magazine Cover Story.
About A Flock of Seagulls
A Flock of Seagulls are an English new wave and synthpop band originally formed in Liverpool by Michael "Mike" Score (keyboards, vocals) and his brother Alister "Ali" James Score (drums). With being the first band signed to Jive Records and (BeBop Deluxe guitarist) Bill Nelson and (Gong bassist, OMD and Teardrop Explodes producer) Mike Howlett at the production helm the third single, "I Ran" from A Flock of Seagulls' 1982 eponymous debut, became a worldwide hit charting at number 1 in Australia and Top 10 in the US. The album achieved similar acclaim, winning a Best Rock Instrumental Grammy Award for the song "D.N.A." More success, including the UK Top Ten smash "Wishing (If I Had A Photograph Of You)" from their second album Listen in 1983 and "The More You Live, the More You Love" from 1984's The Story of a Young Heart followed as they became one of the darlings of MTV. A Flock of Seagulls continues to maintain a very active worldwide touring calendar.
About Jimmy D Robinson / Mind Juice Records
Jimmy D Robinson is a record producer, songwriter, poet and lyricist. His artistic work has him a sterling reputation in the world of art, publishing, and music. He has collaborated with many singers such as Carol Jiani, Melba Moore and A Flock of Seagulls. For more on Jimmy D Robinson and Mind Juice Records please visit: http://jimmydrobinson.com/biography/
Twitter: @jimmydrobinson