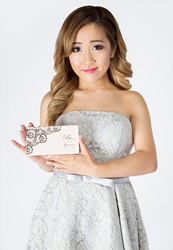 "Lindy is an absolute joy to work with," says Vice President of Product Development Reed Cromwell IV. "She hand-selected each shade and even designed the palette and artwork in her girly, flirty style, which is perfect for BH Cosmetics."
Los Angeles, CA (PRWEB) September 06, 2016
BH Cosmetics, a beauty industry leader and creator of professional-quality makeup, is excited to announce a new palette in partnership with global beauty influencer Lindy Tsang. Best-known for her much-loved YouTube channels Bubzbeauty and Bubzvlogz, she delivers a message of self-confidence and inner beauty to millions of fans.
"I've always dreamed of launching my own eyeshadow palette—so this is seven years in the making", says Tsang. "I've always been a fan of BH Cosmetics, and I chose to partner with them because they understand the importance of creating an affordable palette without compromising quality."
For her inspiring & wearable palette, Tsang chose 12 essential eyeshadow shades. Each shade offers unique day-to-night versatility—and each corresponds to a specific chapter in her upcoming book, encouraging fans to be beautiful both inside and out.
"Lindy is an absolute joy to work with," says Vice President of Product Development Reed Cromwell IV. "She hand-selected each shade and even designed the palette and artwork in her girly, flirty style, which is perfect for BH Cosmetics."
Be… By BubzBeauty will be available in Fall 2016 and can be purchased at bhcosmetics.com.
About BH Cosmetics
BH Cosmetics creates high-quality, affordable cosmetics, makeup brushes and accessories. Known for delivering high-quality cosmetics at affordable price points, the company's product line has garnered extensive praise on YouTube and other social media networks. BH Cosmetics was previously recognized on Inc. Magazine's Inc. 500 list as one of the country's fastest-growing private companies. For more information, visit http://www.bhcosmetics.com.
About Lindy Tsang
Widely considered to be one of the most influential social media icons in the beauty industry, Lindy Tsang is less than five feet tall—but her global influence is giant. As the star of YouTube channels Bubzbeauty and Bubzvlogz, Lindy has over six million followers worldwide. Her high profile and popularity also enabled her to launch a project with Pencils of Promise to help build schools for underprivileged children across the world.