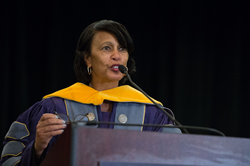 "I am fortunate to have a partner with who is dedicated to transforming nursing education with daring ingenuity. She is an inspiration to countless educators working to prepare the next generation of nurses." NLN President Dr. Anne Bavier
Washington, DC (PRWEB) September 03, 2016
With enduring influence the central theme guiding the selection of the year's most influential figures in health care in Modern Healthcare's 15th annual ranking, Beverly Malone, PhD, RN, FAAN, more than proved her bona fides. The CEO of the National League for Nursing not only made the Top 100 list for the second year running, she moved up the ladder to claim 39th place. In 2015, she was ranked 68 in the field of leading policy-makers, activists, health care professionals, and corporate figures in the health care, insurance, and pharmaceutical industries. The announcement by the magazine on August 22 also made a "Comeback Kid" of President Barack Obama; he was again named number 1.
Modern Healthcare editors, who make the final decisions based on a survey, cited Dr. Malone's specific accomplishments over the past year that earned her this prestigious distinction. In June, they noted, she announced the expansion of the League's Certified Nurse Education Program through a new partnership with CGFNS International. The educational and credential assessment organization provides opportunities for nursing students in a variety of academic and educational settings, accessible on a global scale. Additionally, they asserted, that eager to further the science of nursing education and improve care for seniors, Dr. Malone also has pursued partnerships with Johnson & Johnson, AARP, and others to reinforce the NLN's professional development efforts, nursing research grants, and public policy initiatives that have benefited 40,000 individual nurse educators and 1,200 institutions
Dr. Malone has led the NLN since 2007. This is the third time Modern Healthcare has named her among the 100 Most Influential People in Healthcare. She was first chosen in 2010. Her complete biography may be found on the NLN website.
NLN president Anne R. Bavier, PhD, RN, FAAN, professor and dean of the College of Nursing at University of Texas at Arlington, offered congratulations to Bev on the League's behalf: "Thanks to Modern Healthcare for again recognizing Bev's enduring impact and influence on the health of the nation and the global community. As president of the League, I have been fortunate to have a partner with visionary leadership, unflagging enthusiasm, and dedication to transforming nursing education with daring ingenuity. She is an inspiration to countless educators working to prepare the next generation of nurses, guided by the NLN's core values of caring, integrity, diversity, and excellence."
Dedicated to excellence in nursing, the National League for Nursing is the premier organization for nurse faculty and leaders in nursing education. The NLN offers faculty development, networking opportunities, testing services, nursing research grants, and public policy initiatives to its more than 40,000 individual and more than 1,200 institutional members, comprising nursing education programs across the spectrum of higher education and health care organizations.