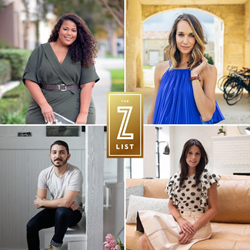 Los Angeles, CA (PRWEB) September 07, 2016
Z Gallerie, the style authority for the fashionable home, is launching The Z List - an ongoing collaboration with social media influencers to showcase the brand's most exciting products. The Z List is comprised of four young talents – each sharing a passion for creativity and home design while representing a diverse range and spectrum of individual style.
Each season, the Z List partners will collaborate with Z Gallerie to curate their own e-boutiques, sharing their favorite style stories from the brand's broad collection of furniture, art, home décor and entertaining items. Influencers on the exclusive Z List, include:
Blair Staky of The Fox & She (http://thefoxandshe.com), a Chicago fashion and lifestyle blog for home decor inspiration, recipes, entertaining, and personal style.
Chastity Garner Valentine, Bay Area-based author and fashion blogger for curvy women at GarnerStyle (garnerstyle.com).
Jennifer Wagner Schmidt, Washington, D.C.-based founder of JWS Interiors and interior design blogger, with a robust online following (jws-interiors.com).
Anthony D'Argenzio, founder and Creative Director of Zio & Sons, a New York creative collective, whose work encompasses creative styling and strategy (zioandsons.com).
"Designers, stylists, and customers love Z Gallerie's unique product assortment and seasonal interpretations of fashion for the home," said Gordon Andahl, Public and Influencer Relations Manager. "They've shown tremendous interest in our previous efforts to partner with tastemakers. Launching the Z List gives us an ongoing opportunity to celebrate the most exciting products each season as selected and styled by this talented group of influencers."
Learn more about The Z List and Z Gallerie's style partners at zgallerie.com/zlist
For additional details on the launch of the Z List, contact Craig Pratt, Public Relations Specialist at 310.630.1220 or cpratt(at)zgallerie.com.
About Z Gallerie
Headquartered in Los Angeles, Z Gallerie is the style authority for the fashionable home. Since 1979, the brand has inspired interior designers and stylish influencers with cutting edge design and sophisticated, accessible furnishings. Each season, Z Gallerie offers the latest ideas in furniture, art, home decor and entertaining tailored to each individual's personal style aesthetic through its celebrated Style Personalities program Style Personalities. A catalog, a full online presence at zgallerie.com and 63 stores nationwide keep Z Gallerie in the forefront as the premier lifestyle brand in home fashion.
###