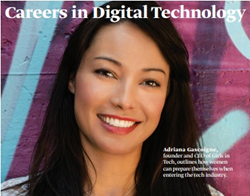 New York, NY (PRWEB) September 02, 2016
Mediaplanet today announces distribution of the latest edition of "Careers in Digital Technology," a cross-platform campaign showcasing the unique and creative career choices available in the tech industry while also spotlighting both its gender disparities as well as solutions that can promote a more level playing field. The campaign also aims to prepare students entering the tech industry, helping them choose the best position and company to fit their career goals.
"If you find yourself in a position where you feel unsupported or welcome, move on," advises Michelle Leahy, Analytics Program Manager of the Anita Borg Institute. "But please don't give up on a career in tech because of one bad experience. There are plenty of companies out there making determined efforts to build strong, diverse and inclusive cultures that value employees of all backgrounds."
The print component of "Careers in Digital Technology" is distributed within USA Today from September 2-4, with a circulation of approximately 250,000 copies and an estimated readership of 750,000. The digital component is distributed nationally, through a vast social media strategy, and across a network of top news sites and partner outlets. To explore the digital version of the campaign, click here.
This campaign was made possible with the support of the Girls Who Code, Girls In Tech, PayPal, Florida State University, Galvanize, Code.org, Anita Borg Institute, She++, Computer Science Teachers Association, Mothercoders, Alcami, UT Dallas and many more.
About Mediaplanet
Mediaplanet is the leading independent publisher of content-marketing campaigns covering a variety of topics and industries. We turn consumer interest into action by providing readers with motivational editorial, pairing it with relevant advertisers and distributing it within top newspapers and online platforms around the world.
Contact:
Harika Manne
Harika.Manne(at)mediaplanet(dot)com
646-755-7951