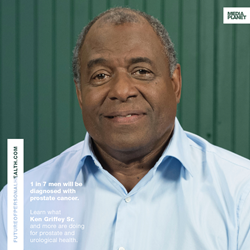 Second only to skin cancer, prostate cancer is the most common cancer American men, with 1 in 7 being diagnosed in their lifetime.
New York, NY (PRWEB) September 02, 2016
Helping to kick off the start of Prostate Health Awareness Month, this campaign will encourage readers to create a plan of action to openly speak with their doctors and take the proper early detection precautions to prevent, and even treat prostate cancer. It will also help to break down stereotypes associated with other urological health disorders, like erectile dysfunction, urinary incontinence, etc., encouraging men to be proactive about speaking with their doctors about their urological health.
Second only to skin cancer, prostate cancer is the most common cancer American men, with 1 in 7 being diagnosed in their lifetime. Even with such prevalent, many men—an estimated 28,000 this year alone—will lose their battle with this disease. While most men are aware of prostate cancer, many forget to take the steps to have a plan to detect the disease in its early stages, which is the best way to survive. One of the major problems is that there are no symptoms of early stage prostate cancer, so it is critical that men understand their risk and talk to their doctor(s) about testing.
The print component of "Prostate & Urological Health" is distributed within today's edition of USA Today in New York, Los Angeles, Chicago and Seattle, with a circulation of approximately 250,000 copies and an estimated readership of 750,000. The digital component is distributed nationally, through a vast social media strategy, and across a network of top news sites and partner outlets. To explore the digital version of the campaign, click here.
Three-time All-Star Ken Griffey Sr. graces the cover of the print publication. Through an exclusive interview on the interior, he reveals that he always knew he was at risk for prostate cancer, having lost four uncles to the disease. "Prostate cancer is an issue that's close to my heart," says Griffey. "I learned the importance of advocating for my own health early on." Even so, Griffey Sr. admits he felt unprepared when he found out he was diagnosed himself, despite all the precautions. "I had always been very willing to speak up about prostate cancer—until I had it myself," he admits. He goes on to describe that he found strength in family, including his son, Hall of Famer Ken Griffey Jr., who has joined his father in the effort to help other men speak up as well.
This campaign was made possible with the support of the Prostate Cancer Foundation, Prostate Health Education Network, ZERO – The End of Prostate Cancer, Society of Urological Nurses and Associates, Bayer, Crila Health, GenomeDx, Genomic Health, Oregon Health & Sciences University, Tokai Pharmaceuticals, Unysen Health and AMS Men's Health.
About Mediaplanet
Mediaplanet is the leading independent publisher of content-marketing campaigns covering a variety of topics and industries. We turn consumer interest into action by providing readers with motivational editorial, pairing it with relevant advertisers and distributing it within top newspapers and online platforms around the world.