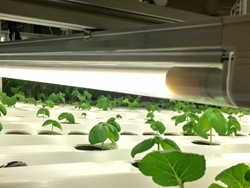 New York, New York (PRWEB) September 07, 2016
Transcend Lighting, Inc., leader in LED horticulture lighting, announced today results from an LED lighting retrofit project at Colorado medical cannabis producer Ajoya.
Ajoya retrofitted its existing fluorescent T5 fixtures in its production facility with LED T5 lamps from Transcend Lighting. The LED T5 lamps generate the same amount of light as fluorescent, but require only about half the energy. Because Ajoya will be saving 85,000 kWh of energy each year, Colorado energy provider, Xcel Energy, issued a sizable rebate.
According to Francine Gindi, Director of Operations at Ajoya, "The rebate from Xcel Energy paid for 1/3 of the project, and put money in our pockets immediately. And the cost savings from converting to LED continues to generate cash every month. It's really a no brainer."
Over the 5-year warranty period for the LED lights, Ajoya will generate a profit of more than $38,000 from the retrofit project - all without using any of the company's cash to pay for the upgrade.
Transcend Lighting CEO, Brian Bennett, added, "We all know the energy and cost savings of LED over fluorescent. But now with the help of utilities such as Xcel Energy, we believe we've reached the tipping point."
About Ajoya
Ajoya is an advanced medical cannabis producer with dispensaries located in Louisville, CO and Lakewood, CO. Learn more at: http://ajoyalife.com/
About Transcend Lighting
Transcend Lighting is a leading developer and U.S. manufacturer of LED lighting technologies. In 2015, the company emerged from the world-renown Silicon Valley incubator, Y Combinator, and is poised to transform the multi-billion dollar global horticulture lighting market. Transcend Lighting's patented and proprietary technologies enable unique advantages for horticultural solid-state lighting. Corporate headquarters is located in New York City, U.S.A. For more information, visit http://www.transcendlighting.com
Transcend Lighting Media Contact
Chuck DeMilo, VP, Marketing
800-205-7216
chuck(at)transcendlighting(dot)com