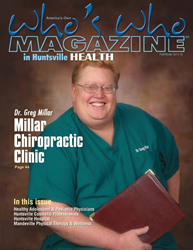 We don't have long term contacts for care at Millar Chiropractic Clinics. We pledge to make our care Convenient, Affordable and Mainstream.
Huntsville Alabama (PRWEB) September 12, 2016
Dr. Greg Millar, Chiropractor an CEO of Millar Chiropractic Clinics announced today that the Doctors of Millar Chiropractic Clinics, one of the largest privetely held group practices in Alabama, took the ChiroTrust® Plege. ChiroTrust® members are a group of over 5000 member Doctors of Chiropractic worldwide who are dedicated to providing conservative, mainstream chiropractic care services without sales pressure and unnecessary treatments or therapies, or excessive cost for the patient. They make and accept referrals from medical doctors and pledge to work with a patients medical team.
ChiroTrust® members don't believe in selling year long care plans that patients don't need. Dr. Millar went on to say, "They don't sell cookie cutter packages, where everyone gets the same number of visits. ChiroTrust® doctors recommend what YOU need as an individual for your specific problem. If YOU need 2 visits or 20 visits, that's what you need and that's what you get at all Millar Chiropractic Clinics. They also believe that all chiropractic care services has a start date and an end date so patients are not asked to come for LIFE."
Dr. Millar went on to say, "as a Chiropractor this is refreshing and good for chiropractic as a whole. It long overdue for chiropractic to shift toward mainstream medicine and become more accepted by patients everywhere. That does not mean chiropractors have to give up our uniqueness and whole body natural approach. It just means we're joining the team." Chiropractors do a great service today treating millions of patients nationwide without drugs and surgery. Most patients today want natural healthcare until natural care is not solving the problem then they want allopathic medicine. They want mainstream chiropractic care services and that's what they get with Millar Chiropractic Clinics doctors.