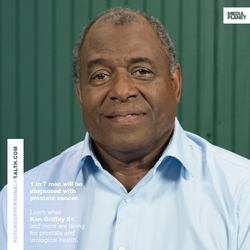 There is a long-standing stigma that prevents men from openly talking about their urological health issues...
New York, NY (PRWEB) September 02, 2016
There is a long-standing stigma that prevents men from openly talking about their urological health issues—like urinary incontinence, erectile dysfunction—and the need to promote greater prostate health as they age. The taboo and embarrassment around these challenges must come to an end, so that the millions of Americans living with declining prostate function feel empowered to speak with their doctors and seek proper support. With the support of celebrities, thought leaders, associations and top industry partners like Crila Health, the campaign breaks down these urological misconceptions and stereotypes and encourages men to be proactive in their health.
For over 10 years, Crila® for Prostate has helped improve overall quality of life for thousands of men to promote normal prostate health and support healthy urinary function with fewer bathroom trips and more restful sleep. Symptoms can creep up gradually, and be hard to recognize until you find yourself making more than frequent visits to the men's room. Crila® for Prostate herbal supplement brings men welcome relief, without side effects.
Historically, the rare Vietnamese Crinium latifolium prostate herb was reserved exclusively for Kings and Emperors—until scientist Dr. Tram Nguyen developed a patented standardized extraction from "Crinium latifolium L var. crilae Tram & Khanh" to support and maintain prostate health. In two uncontrolled studies, 89 percent and 83 percent of men, respectively, reported improved prostate function in 60 days.
Scientists at the University of Illinois Chicago, College of Pharmacy confirm Crila® contains no Phyto Estrogen. Crila® is manufactured in a GMP FDA-registered facility, and is now available in the United States online from http://www.crilahealth.com
ABOUT CRILA HEALTH
Crila Health was founded by international professionals and investors doing business in Vietnam since 1994. After experiencing beneficial results themselves, they resolved to bring the prostate herb to market under FDA GMP regulations to make Crila® for Prostate available to men everywhere.
ABOUT MEDIAPLANET
Mediaplanet is the leading independent publisher of content-marketing campaigns covering a variety of topics and industries. We turn consumer interest into action by providing readers with motivational editorial, pairing it with relevant advertisers and distributing it within top newspapers and online platforms around the world.