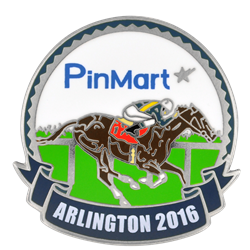 Special social time and interaction with my PinMart family outside the workplace is a nice perk.
(PRWEB) September 06, 2016
On August 5, 2016, PinMart, a leader in lapel pin manufacturing, held its annual company picnic at Arlington International Racecourse Park in Arlington Heights, Illinois. PinMart, Inc. celebrated record sales growth for the first half of the year with a gathering of over 75 employees and family members. Most memorable in attendance was PinMart's President's 102 year old Grandfather.
PinMart employees and their families enjoyed good company, food, drinks and live entertainment. Employees were given the opportunity to place their bets on the exhilarating Thoroughbred racing entertainment. While Arlington is known for its world-class Thoroughbred racing, the Park also offered a plethora of other activities. While the adults were placing their bets their kids were playing on giant inflatable Twister game.
"Special social time and interaction with my PinMart family outside the workplace is a nice perk," said Josie Divizio, Project Coordinator, PinMart, Inc. Divizio added, We all work hard day-in and day-out, and building relationships outside of the workplace is a plus for all of us; we get to know everyone's significant other as well! Outings like this allow for growth in the organization, building empathy, compassion and creativity. I feel our work is more rewarding and more enjoyable when we have authentic closeness with those that we work with (PinMart family) every day!"
This was the first year PinMart held their annual company picnic at the Arlington International Racecourse Park. Rachel Geyer, PinMart's Social Media Manager, commented on the "Good Spirit" present at the picnic, adding, "It was so nice to see my fellow colleagues and their loved ones together celebrating the core values of the PinMart Spirit: being involved, celebrating each other and, most importantly, having fun!"
About PinMart: PinMart, Inc.
PinMart, Inc. is a privately held company located in Elk Grove Village Illinois, a suburb of Chicago, specializing in the design and manufacturing of stock and custom emblems, custom lapel pins, and recognition and awareness products. PinMart sells products via its online store and offers custom design and manufacturing. PinMart has taken advantage of its well positioned internet presence and now boasts a client list that includes over 300 of the Fortune 500 companies.
For more information about PinMart, Inc., call 1-877-PINMART or go to PinMart.com.