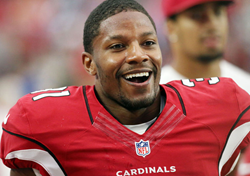 Join the Arizona Cardinals kickoff event Tuesday September 6
Peoria, AZ (PRWEB) September 02, 2016
Come join the Arizona Cardinals and Pro Player Health Alliance this Tuesday to kickoff the 2016 NFL season.
Meet Rookie of the year David Johnson, Voice of the Cardinals Ron Wolfley, newest Member of Cardinals Ring of Honor Roy Green and many more current players including special guest superstar!
March To Super Bowl 51
Tuesday, September 6, 2016
Sponsored by Arrowhead Pro Sleep
6:00 PM – Close
Cowboys Saloon
9824 W Northern Ave Peoria, AZ 85345
623-236-9704
CowboysSaloon.com
ABOUT PRO PLAYER HEALTH ALLIANCE
Pro Player Health Alliance (PPHA) is an organization dedicated to helping former NFL players, through providing testing and treatment options for those who suffer from sleep apnea. Since launching in April 2012, over 160 players have been treated through PPHA's "Tackle Sleep Apnea" campaign. Also, the PPHA is dedicated to integrating education and raising sleep apnea awareness, in a fun and memorable way. In addition to the campaign, PPHA is dedicated to testing and getting people who suffer from sleep apnea treated.