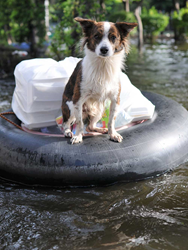 Helping Those In Need.
Los Angeles, CA (PRWEB) September 04, 2016
The flooding broke records for intensity, and in August, it was declared a state of emergency by President Obama. News sources say that at least 30,000 people required rescue, and those in need of assistance also included some 1,400 pets. The Louisiana SPCA stressed its extreme need for help and reported that animal shelters were being pushed beyond their capacities.
According to The Wags Club founders and owners Abi and Y.K. De Silva, being far away from the site of the disaster didn't stop the Wags Club from feeling driven to pitch in. "We wanted to make it easy for people in our own Santa Monica community to take part in the relief efforts at our indoor/outdoor facility," said Y.K. De Silva, "and we thought that having a day dedicated to serving those in need was the ideal solution."
The doggie daycare founders possess a healthy respect for the strong bonds between people and their pets. As their business focuses on dog boarding in cage-free accommodations that cater to canine needs, the De Silvas are highly attuned to the impacts that stress can have on these valued companion animals. By donating to the Louisiana SPCA, they can directly contribute to the truly worthy cause of reuniting the many displaced animals searching desperately for their families.
While the charitable event is open to the general public of Santa Monica and the surrounding areas, those whose dogs are not already The Wags Club's members must schedule and pass a standard temperament test to participate. Owners whose animals can't join in the fun due to their dispositions, health issues or other factors can nonetheless contact the Wags Club to give a donation. Calling (310) 473-3333 and making a credit card contribution will show support for the Louisiana SPCA and aid its efforts throughout the state's affected areas.
"We hope that this fundraiser does more than just help the Louisiana flood victims and their pets," say the De Silvas. "From the beginning, our goal in opening a cage-free doggie daycare resort has been to impact dogs and their owners lives in a meaningful way. We firmly believe that holding events like this sets a great example for other local businesses and members of our community and will inspire and encourage everyone to help and support each other when in need."
To learn more about the Wags Club or the September 7th charity drive, visit http://www.thewagsclub.com.