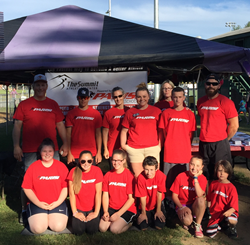 "Whether an athlete wants to make a team, just get in shape, or reach their peak potential, Parisi has a program that will help them achieve their goals and increase confidence on and off the field."
Marlborough, New Hampshire (PRWEB) September 03, 2016
Athletes of all ages in the Monadnock Region can now get set and start their journey to increased speed, strength, and overall fitness with the Parisi Speed School of New Hampshire Grand Opening. The Summit Athletic Center at 9 Canada St is the 92nd Parisi facility, a network that spans 32 states and several international locations. The Parisi Speed School of New Hampshire is holding a Grand Opening Event on Saturday September 10th from 10 am to 2pm.
"I couldn't be more excited to hit the ground running, pun intended," said Parisi Program Director and Monadnock Regional High School Strength Coach Ben MacArthur, "I have a huge passion for fitness and always wanted to run a sports performance business, especially for young athletes. On Saturday, adding the Parisi Speed School to The Summit Athletic Center programs will make that dream a reality."
To help celebrate the occasion, MacArthur and The Summit Athletic Center team will be holding Parisi challenges, conducting free classes, giving away raffle prizes, and scheduling appointments for free performance evaluations to those who come out to the Grand Opening. One-time Membership specials will also be offered through the month of September. "We wanted start off with a bang and do something big during our Grand Opening," stated MacArthur.
The Parisi Speed School is unique in the fitness industry because the focus is on the training and fitness of athletes in the 7-18 age range. Through our proprietary methodology, the Parisi Youth Training System has four separate programs designed to work with athletes of all skills and abilities. When a new athlete signs up, they take the Parisi Evaluation, where they are taught Parisi's signature Active Dynamic Warm-Up, are analyzed while running, and tested in a battery of physical speed and strength movements. After the evaluation is complete, a certified performance coach reviews the results and selects the appropriate program for the athlete. Programs geared towards team training and for adults looking for athletic training are also available.
Some of the world's top athletes have benefited from the Parisi Youth Training System including Chris Long, former No. 2 overall draft pick in the 2008 NFL Draft and current New England Patriot, as well as Tobin Heath, mid-fielder for the US Women's National Soccer Team, FIFA World Cup Medalist, and three-time Olympic Medalist. The Parisi techniques are evidence-based, time-tested, and will be integral to helping athletes throughout the area improve their speed, strength, flexibility, and endurance.
"The Parisi Speed School is the next logical step for The Summit Athletic Center. We can't get started fast enough," stated Managing Director and facility owner Steve Holland, "Whether an athlete wants to make a team, just get in shape, or reach their peak potential, Parisi has a program that will help them achieve their goals and increase confidence on and off the field."
Sara Alderfer of Body & Soul Personalized Fitness, LLC is also partnering with The Summit Athletic Center to deliver the Parisi Speed School programs to their joint client base. Sara is a 25-year fitness industry veteran who specializes in training for middle and long distance runners. "The Parisi Speed School complements the endurance training we do," said Alderfer, "It is such a natural fit since all athletes can benefit from increased speed through proper technique and conditioning."
About Parisi Speed School:
Founded in 1992 by CEO Bill Parisi, our mission is to strive to be the industry leader in performance enhancement and continue to deliver a positive training experience that improves speed of movement and strength in character regardless of ability or economic status. Parisi Speed School is recognized as the premiere performance enhancement organization for athletes of all ages. More than 600,000 athletes of all ages have come through our doors. Using proven techniques that have produced over 130 NFL draft picks, as well as athletes who went on to compete in the NBA, MLB, NHL, Professional Soccer and the Olympics. Thousands of Parisi-trained athletes have also gone on to play at the collegiate level.
About The Summit Athletic Center:
The Summit Athletic Center opened in January, 2015 at 9 Canada St, Marlborough NH. We are the place where Dedicated and Aspiring Athletes can reach their peak performance level, enjoy their activities to the fullest, and develop lifelong skills for on and off the field. Whether you are just starting your game or have been playing a long time, The Summit Athletic Center has something for you. For more information, please visit http://www.parisispeedschoolnh.com, http://www.reachmysummit.com, or call us at (603) 876-5106.
About Body & Soul Personalized Fitness:
Body & Soul Personalized Fitness located at 305 Park Ave in Keene, NH, offers unparalleled, transformational fitness classes, workshops, clubs, and personal training. With our welcoming studio space, decades of training experience, and top-of-the-line equipment, we will help you achieve your wellness goals. For more information, please visit http://my-body-and-soul.com.