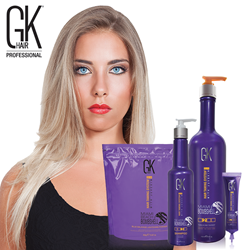 I am truly blown away by the incredible smoothing results of the Miami Bombshell Treatment on blonde hair. - Van Tibolli CEO & Founder GKHAIR
Fort Lauderdale, Florida (PRWEB) September 10, 2016
GKhair continues to be recognized globally as an innovator in hair care, bringing new products like the recently launched "Bombshell Series", a line designed to acquire healthy blonde hair complete with in salon treatments and at home care. The Bombshell Lines includes the new Miami Beach Bombshell Blue Balayage Powder. GKhair's recently introduced line of hair care including Miami Beach Bombshell a Blue Balayage Powder, specifically designed for salon professionals to easily lighten hair color.
Celebrities around the world are sporting a variety of different hair coloring styles causing a huge demand by the fashion forward trendsetters; and because of that hair salons are bustling with new customers. Balayage, Ombre and Sombre have become the talk around the block. Due to these trendy hair coloring fashions, hair stylists are experimenting with new hair coloring techniques to continue innovating and customizing the style.
Salons are now developing their client menus; Facebook and Instagram pages to promote new and fun service options to their clients, which increased visibility across hair care industry. As the industry evolves with innovative products and social media accessibility the interest in the career path to cosmetology has increased as well.
New Products included in the GKhair Bombshell Series are: The Miami Beach Bombshell Blue Balayage Lightening Powder is a clay lightener that hardens on the hair to eliminate the need for foils and locks in required moisture resulting with beautiful blonde tones.
GKhair Silver Bombshell Shampoo – a violet-based shampoo you can conveniently use at home to add in your daily hair care routine. Use this to neutralize unwanted brassy tones while simultaneously conditioning the hair.
GKhair Hot Blonde Masque – a one-time shot of intensive hair conditioning. Just mix it with hot water and apply fully saturating the hair to eliminate frizz and damage while strengthening the hair.
Thanks to the Miami Bombshell, breakage and frizz are woes of the past! Your hair deserves the best in terms of care. Do your hair a favor and get that perfect blonde hair with the Miami Bombshell Salon Professional Smoothing Treatment.
GKhair is a Hair Care Company based in Fort Lauderdale, Florida that provides Hair Care Solutions to End-Users and Salon Professionals. Since 2007, the brand GKhair has consistently been a pioneer in creating hair solutions and creating the best hair care products. GKhair is now in over 70 countries worldwide and it continues to expand its domain by marking new territories. For more information on GKhair, please call +1 305 390 0044 or visit https://www.gkhair.com.
Connect With US!
Like Facebook @GKhair
Tweet Twitter @GKhair
Follow Instagram @GKhair
Pin Pinterest @GKhair
Watch/Subscribe Youtube @GKhair
Juvexin Infused to Strengthen Hair
Get Hair Moisturizing & Smoothing