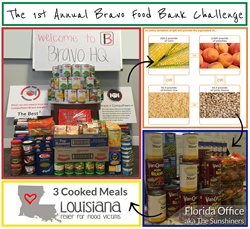 Las Vegas, NV (PRWEB) September 04, 2016
As part of Bravo Pawn Systems commitment to help out others in need and partake in community involvement, they hosted an internal food bank challenge in the month of August that was open to all employees. To make it interesting, teams were formed evenly by company roles and locations to foster friendly competition while contributing to such a great cause. The end result: over 200 pounds of food donated to multiple food banks, feeding and helping out local communities at each of our locations.
Specifically, over 350 cans of food and boxes of pasta were collected among the Las Vegas Headquarters and Florida office, who donated to Three Square and Boca Helping hands. Also, employees contributed an online donation to the SF-Marin Food Bank and 3 cooked meals delivered to families afflicted from the Louisiana floods.
"My goal in organizing the 1st Annual Bravo Food Bank Challenge was to provide all of our employees the opportunity and platform to give back to their community. One of the reasons I love working for Bravo is because it was founded on the premise of helping others out - not just pawnbrokers with our software solutions, but also taking the time to get involved in our local communities and giving to those in need," says Margo Kleman, Marketing Specialist for Bravo Pawn Systems.
At the end of the day, it truly wasn't about a competition (that was just for fun and team bonding) but it's about using Bravo Pawn Systems as an avenue to give back to its local communities and help others in need. The entire Bravo team shows sincere passion towards helping others out and will continue to do so in future community involvement activities.