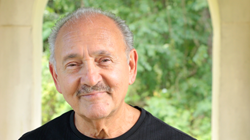 Saturday, 9/3/2016 4-5 pm EST Sirius XM Radio, Station 131 Caller Line: 877-956-9566
Rhinebeck, NY (PRWEB) September 02, 2016
Are you living in pain and sick and tired of being sick and tired? Are you addicted to pain medication [or worse!], and feeling depressed and frustrated that you are not getting better? If not, there's a high probability you know someone who is….
Meet Mr. Lou Paradise - a driving-force in today's healthcare who is dedicated to bridging the gap between natural biomedicines innovation and all specialties of healthcare practices. This is a contribution to give doctors and patients 21st century options to improve the standard of care and provide better outcomes - ending suffering and restoring hope and quality of life.
Starting Saturday, 9/3/2016; Mr. Paradise will host a LIVE, call-in talk radio show teaching listeners about their natural, safe and effective options on how to treat the cause of their pain in an entertaining educational forum, sharing his decades of experience as an accomplished natural medicines researcher and biomedicines product innovator. Mr. Paradie's show, Solutions for Life, airs Saturdays on Family Talk Sirius XM Radio, station 131, from 4 to 5 pm EST.
Family Talk radio features the best in Christian teaching ministries, powerful talk radio, and entertainment.
Mr. Paradise's listeners will learn how pain and inflammation are integral to the healing process and why analgesics and oral pain medication having no curative power and fail to bring relief of pain... leading to worsening medical conditions and addiction.
Discussions will explore pain and the body's healing chemistries, the important role of inflammation and the immune system, and how lifestyle factors such as exercise, hydration, and nutrition affect health. In addition, specific conditions and ailments will be addressed, including: why obesity and diabetes are significant problems alarmingly on the rise, as well as how common arthritis is; carpal tunnel and sports injuries such as plantar fasciitis, and other foot ailments. In addition, a natural approach to treating the pain associated with diabetic and chemo-induced neuropathy, fibromyalgia and more!
Mr. Paradise will also monitor and accept all calls, answering listeners prudent questions while providing hope in healthcare and inspiring people to thrive in life again.
The Caller Line: 877-956-9566
Says Mr. Paradise,
"Along with our dedicated staff, I am humbled to be a very dedicated part of the patient revolution and I am grateful to God to have a strong intuition, and humbled to be allowed a role in serving humankind..."
Mr. Paradise's passion to contribute his voice is driven by his own journey that started following two tours of duty in Vietnam as a US Marine Corps, helicopter combat/rescue crew chief. Mr. Paradise sustained cumulative trauma injuries from the physical demands of combat and performing hundreds of rescue missions of fellow Marines, Air Force, and Navy personnel, as well as humanitarian missions of Vietnamese civilians.
Mr. Paradise is also honored to host after The Kat James Show, lead by notable nutritionist Kat James.
So Listen, Learn, Ask, and Receive Answers. Why? Says Mr. Paradise
"Because Every Citizen of the World deserves to know all their available pain relief options upfront. No one should have to live in pain or suffer the consequences of chemical over-the counter, or prescription pain pill, simply because they do not know all your options…."
Solutions for Life - Know Your Options.
About Topical BioMedics, Inc.: Topical BioMedics is a research and development leader in the transdermal application of natural biomedicines in combination, through its patented healing technology platform, Topricin. The company's flagship product, Topricin® Pain Relief and Healing Cream, was introduced in 1994 as an innovative 21st century approach of relieving the cause of pain at the cellular level by supporting an optimum healing response, assisting the body's desire to heal the damaged cells causing the pain. Topricin is now a leading natural therapeutic brand, both for active people and in patient care.
The products contain specialized formulations of 11-17 natural biomedicines, treating a wide range of pain ailments and awarded patents for the treatment of pain associated with neuropathy (diabetic and chemo-induced) and fibromyalgia. Topricin products are changing the way pain is diagnosed and treated and have become mandatory treatment protocol at world renowned medical centers - treating the cellular cause of pain results in reduced dependency for all classes of oral pain pills including opioids.
This natural healing product line also includes; Topricin Foot Therapy Cream, specially formulated to treat the challenges foot and ankle pain issues. Topricin for Children, which received the Parent-Tested, Parent-Approved, Seal of Approval (with 5% of sales donated to a pediatric cancer foundation in NY State). The company launched the MyPainAway® (powered by Topricin) line of products. Its three new formulas MyPainAway Fibro Cream was formulated to provide viable pain relief for people with fibromyalgia, MyPainAway After-Burn Cream that treats the cells damaged by a burn, and MyPainAway Sports Cream targeted towards athletes, weekend warriors, and active people everywhere.
Topricin is proud to be, Made in the U.S.A., with lots of Love, pure biomedicines, no harsh chemicals, will not interfere with any other medicines making Topricin products ideal for the entire family, restoring hope and quality of life supporting a Healthy Active Lifestyle.
Topricin is available in independent pharmacies, natural food and co-op stores nationwide, including Whole Foods, Sprouts, Pharmaca, The Vitamin Shoppe, Fred Meyer, Wegmans, CVS, Walgreens (Diabetic Section), and other fine retailers, as well as directly from the company. For more information visit http://www.topricin.com.