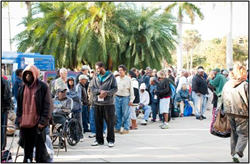 Veterans lining up outside of a Florida stand down event
Washington, DC (PRWEB) September 02, 2016
The Disabled Veterans National Foundation (DVNF) (http://www.dvnf.org) is praising the Department of Veterans Affairs' recently announced $300 million commitment in grant funding through Supportive Services for Veteran Families (SSVNF), a program that aims to help thousands of low-income veteran families throughout the country to keep them in a home.
The SSVF funding, is a program that the VA says, "supports outreach, case management and other flexible assistance to prevent Veteran homelessness or rapidly re-house Veterans who become homeless." This new round of funding will be distributed to 275 organizations throughout all 50 states, as well as the District of Columbia, Puerto Rico, Guam, and the U.S. Virgin Islands.
According to the VA, their "Housing First" strategy has resulted in 360,000 veterans and their families to remain in a home or to be rehoused in the last five years, and SSVF is a major factor in ensuring the success of this initiative.
"With nearly 50,000 veterans without a home on any given night, it truly is a national tragedy that so many of our men and women who have served our country are in such desperate circumstances," said DVNF CEO, Joseph VanFonda (USMC SgtMaj Ret.). "DVNF remains committed to the national efforts to combat homelessness, and we are glad that the VA continues this fight as well."
DVNF has been a major supporter of community organizations throughout the country who work to help homeless veterans. Of all homeless veterans, approximately half suffer from a disability, and more than half suffer from some type of mental illness. An additional two-thirds of homeless veterans have a substance abuse issue, which is why DVNF has been so adamant about helping this particular demographic of veterans.
One of the biggest challenges is getting these veterans into transitional housing at the very least, so they can begin taking the steps necessary in order to get back on their feet.
About DVNF:
The Disabled Veterans National Foundation exists to provide critically needed support to disabled and at-risk veterans who leave the military wounded—physically or psychologically—after defending our safety and our freedom.
We achieve this mission by:

Providing an online resource database that allows veterans to navigate the complex process of seeking benefits that they are entitled to as a result of their military service, as well as additional resources they need.
Offering direct financial support to veteran organizations that address the unique needs of veterans, and whose missions align with that of DVNF.
Providing supplemental assistance to homeless and low-income veterans through the Health & Comfort program and various empowerment resources.
Serving as a thought leader on critical policy issues within the veteran community, and educating the public accordingly.