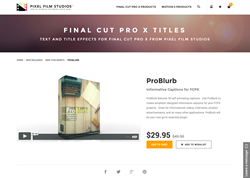 ProBlurb features 30 customizable self-animating informative captions that can be used for interviews, product advertisements, and many more applications
Aliso Viejo, California (PRWEB) September 05, 2016
"ProBlurb features 30 customizable self-animating informative captions that can be used for interviews, product advertisements, and many more applications," said Christina Austin - CEO of Pixel Film Studios.
ProBlurb is a package of 30 self-animating informative captions. Choose from presets with dynamic animations that animate in from different directions. ProBlurb's simplistic style makes it a complement to almost any informative video production.
ProBlurb's intuitive controls give the user control over colors, length, width, opacity, and scale of each preset. Utilize on-screen controls to manipulate the overall orientation of presets with drag and drop ease. ProBlurb was built efficiently for Final Cut Pro X.
ProBlurb features unique intro and outro animations for each preset. ProBlurb is easy to use, just drag and drop. Browse the ProBlurb library, drag the desired preset above a picture or video in the Final Cut Pro X timeline, and customize till completion.
ProBlurb's informative design is the right tool for any presentation style video. ProBlurb's quick and smooth animations give the viewers the information they need in a timely manner. Users can utilize ProBlurb presets for facts or any other informative tidbits, ProBlurb is our go-to caption plugin.
Established in 2006, Aliso Viejo, California-based Pixel Film Studios is an innovative developer of visual effects tools for the post-production and broadcast community. Their products are integrated with popular non-linear editing and compositing products from Apple FCPX. Apple, the Apple logo, Mac OS X, and Macintosh are registered trademarks of Apple Inc. in the U.S. and/or other countries. All other trademarks and trade names are the property of their respective owners.