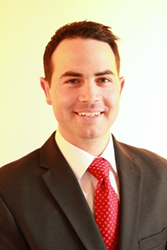 I am ecstatic to be returning to the Capitol PT team and working with Dr. Lombardo again. The Sun Prairie community is a great place to call home, and I am excited to serve the people there and provide the best care and service possible.
(PRWEB) September 06, 2016
Capitol Physical Therapy is proud to announce the addition of a new clinic director at the Sun Prairie location, Dr. Kevin Wait. Dr. Wait earned his Doctorate degree in Physical Therapy from the Mayo Clinic College of Medicine and completed an additional year-long Sports Medicine Physical Therapy Residency through Gundersen Health Sports Medicine in La Crosse, WI. He is a Board Certified Sports Clinical Specialist by the American Board for Physical Therapy Specialists and also a Certified Strength and Conditioning Specialist. Dr. Wait is experienced in treating general and complex orthopedic conditions and provides specialty services for patients with sports related injuries or performance interests. He also has advanced training in specialized soft tissue and muscle treatments in the form of Trigger-Point Dry Needling and Instrument Assisted Soft Tissue Mobilization. His treatment approach emphasizes hands-on treatments for improving mobility and decreasing pain while emphasizing movement retraining through specific exercise prescription.
Dr. Wait has worked in a variety of professional clinical settings, including a military base and with collegiate and professional athletes. He has completed consulting work with professional sports teams improving the management of their sports injuries. He has a passion for educating the future of his profession. He previously helped develop an innovative curriculum used to train Doctoral students across the country in a clinical setting. He also coordinates continuing education courses for a national leader in physical therapy education. When not in the clinic, he enjoys playing golf, working out, reading, and chasing after his daughter, Finley.
About Capitol Physical Therapy:
Capitol Physical Therapy is a private physical therapy practice with locations in Sun Prairie, Madison, Verona, and Mount Horeb. They deliver hands-on physical therapy based on the newest research to achieve the best results for patients with bad backs, achy joints, wounded limbs, 'female' issues, and work injuries. Along the way, the Capitol PT team has fun and makes family-like relationships with their patients. Perhaps this is why they were voted Wisconsin's Private Practice of the Year in 2016 by their peers in the Wisconsin Physical Therapy Association. For more information visit their website at capitolphysicaltherapy.com or find them on Facebook and Twitter.