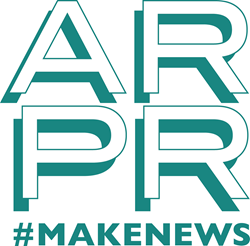 In our fourth year of business, we're already extending our client relationships beyond the industry average, which proves that both our company culture and marcom approach works.
ATLANTA (PRWEB) September 06, 2016
Technology public relations and integrated communications agency AR|PR today announced the expansion of its global client roster, highlighted by new Agency of Record (AOR) agreements with innovative private and public companies spanning cybersecurity, mobility, FinTech and HealthIT. With the addition of six new technology companies, AR|PR's global footprint has grown to include clients with headquarters or major office locations in Australia, Brazil, Germany, India, Israel, the United Kingdom and the United States.
"Some of the most innovative companies from around the world chose AR|PR because of our proven ability to drive results and provide great client service," said Anna Ruth Williams, AR|PR founder and CEO. "Every day, our employees come to work ready to do whatever it takes to #makenews and #driveleads for their clients. It's this type of unwavering commitment, combined with our marketing and PR expertise, that has enabled us to achieve so much growth, so quickly."
In Q3 2016, AR|PR welcomed six new clients to the firm's practice groups. They include:

352 Inc. (Atlanta) – 352 Inc. is a digital product development agency with a passion for turning big ideas into compelling websites and software. 
IRONSCALES (Tel-Aviv) – IRONSCALES is the first phishing mitigation solution to combine human intelligence with machine learning.
Office Practicum (Horsham, Pa.) – Office Practicum is the fastest growing electronic health record (EHR) in the pediatric medicine market.
PowWow Mobile (San Francisco) – PowWow Mobile enables enterprises to transform any Windows or web application into a native mobile app in days.
Sovos Compliance (Boston) – Sovos Compliance is a global leader in business-to-government tax compliance and reporting software.
Xplore Technologies (Austin) - Xplore Technologies makes the most complete line of ultra-rugged, fully rugged and rugged tablet PCs.
Leading in Client Retention
In addition, AR|PR announced several major AOR client renewals in Q3 2016, including three companies entering their fourth year of engagement and another entering its fifth. These renewals include: Fitnet (3 years), Nuance Communications (3 years), Azuga (3 years) and Inventus Power (4 years).
Over the past decade, client tenure has become a stifling problem for the 100-year old PR industry. According to the Bedford Group, average client-agency tenure rates have fallen from over seven years to less than three years.
"The only thing better than a new client is a retained client," said senior vice president Blair Broussard. "In our fourth year of business, we're already extending our client relationships beyond the industry average, which proves that both our company culture and marcom approach works. We're confident and excited to continue bucking industry trends for many years to come."
To learn more about AR|PR's current client roster, awards and services, and read our recent tech marketing resources, visit http://www.arpr.co. Click here to sign up to learn about the agency's upcoming San Francisco market launch.
About AR|PR 
As one of the nation's fastest growing technology PR firms, the 2014 National Small Agency of the Year, and a 2016 Best Places to Work, AR|PR is a results-driven public relations and integrated communications agency for technology leaders. With a passion for telling technology and entrepreneurial stories, AR|PR cultivates strategic partnerships with its cybersecurity, mission critical, health IT, mobility and Software-as-a-Service (SaaS) clients. From high-growth startups to publicly traded enterprises, AR|PR helps companies within these industries cut through the noise and clutter to #makenews. For more information on the award-winning agency, visit its offices in Atlanta and New Orleans and online at arpr.co and @AR__PR.