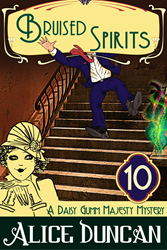 Witty story...serious subject
Shrewsbury, PA (PRWEB) September 06, 2016
ePublishing Works! announces BRUISED SPIRITS by Alice Duncan, available in paperback (978-1-61417-860-6, 324 pages, $17.99 USD) and eBook format (978-1-61417-859-0, $3.99 USD).
Genre:
Fiction, Mystery, Cozy, Women Sleuths
The Story:
It's 1924 in Pasadena, California, and spiritualist-medium Daisy Gumm bands with friends Flossie and Harold to help Lily Bannister, whose abusive husband nearly killed her.
Meanwhile, Mrs. Pinkerton—Daisy's best client—is in a tizzy, insisting Daisy use her spiritualist talent to end the engagement between her daughter and a most unsuitable man.
To Daisy's surprise, the two cases collide, catching her in the middle. Can she prove Lily's husband and Mrs. P's soon-to-be-son-in-law are in cahoots with nefarious human traffickers... before it's too late?
Read an excerpt from the book by clicking here.
From Alice Duncan:
"I was inspired to write this book after hearing from a loyal Daisy Gumm Majesty fan from Australia. She wrote to tell me how Daisy's adventures helped her through rough times. We started corresponding and I learned her husband beat her nearly to death and locked her in the basement. She managed to escape, but still suffers from PTSD and a variety of other problems. So while the book is basically fictitious and humorous, the subject is quite real and serious.
"The book also deals with child sex-trafficking, which still goes on and is still as repulsive as ever.
"I don't know how I manage to write funny books about this kind of stuff but I promise readers many laughs.
"Book #11, SPIRITS UNITED, is in the works and should be available in 2017."
What Readers Think::
"A good giggle tied up in a mystery makes for a good read." ~Evonne Hutton
"Ms. Duncan has a wonderful sense of humor..." ~Linda Sandersen
"...characters are so well written, ... I am a happier person with them in my literary world." ~ Marcella Grover
"...makes me wish these characters were real people." ~Catherine Sarault
Meet Alice Duncan:
In an effort to avoid what she knew she should be doing, Alice folk-danced professionally until her writing muse finally had its way. Now a resident of Roswell, New Mexico, Alice enjoys saying "no" to smog, "no" to crowds, and "yes" to loving her herd of wild dachshunds. Visit Alice at http://www.aliceduncan.net.
Discover and Purchase this and other titles from ALICE DUNCAN by clicking here.
BRUISED SPIRITS is available through online retailers, booksellers, subscription services and public libraries everywhere.
Wholesale buyers may order through Ingram or Baker & Taylor with return privileges.
About Epublishing Works:
ePublishing Works! is a next generation digital print, audio and ebook publisher for career-minded authors who want to focus on their passion: writing great stories. From digital file preparation, cover design, sales copy, promotion and distribution, to royalty payment, ePublishing Works takes care of business while authors enjoy the freedom to write. For more information and submission guidelines visit us at http://www.epublishingworks.com or click here to request information.