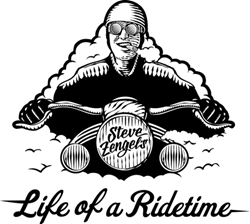 "...family members of fallen officers must also deal with some very unique financial issues."
Howell, NJ (PRWEB) September 13, 2016
Local charitable organization Director, Steve Zengel, announced today that he will be taking a cross-country ride on a Harley-Davidson motorcycle October 1-15 to distribute what he hopes will be significant sums of money to family members of fallen police officers.
According to the National Law Enforcement Officers Memorial Fund, there are approximately 900,000 active law enforcement members in the U.S. and over the past decade, an officer has died in the line of duty once every 61 hours. 123 officers were killed in the line of duty in 2015. 78 police officers have died in the line of duty to-date in 2016.
"In addition to dealing with the devastating emotional toll of the loss of a mother, a father, or a spouse, family members of fallen officers must also deal with some very unique financial issues, things I only learned about through conversations I had with policemen over a cigar" said Zengel.
The $2 million goal for Zengel's Life of a Ridetime! is very reachable in his opinion.
"This year's ride is to support family members of fallen officers. Next year's is for family members of fallen firefighters. If every active law enforcement member and firefighter gave only a buck, we'd get to our goal of $2 million pretty easily." said Zengel, who will be traveling from the Wall Township (NJ) Police Department Headquarters to Los Angeles, CA and back, stopping in many major cities, including, New York, Pittsburgh, Chicago, Kansas City, Denver, Los Angeles, Phoenix, Dallas, New Orleans, Miami, and Baltimore.
Those interested in supporting the ride can visit http://lifeofaridetime.org/donate/
About Life of a Ridetime!
Steve Zengel was a cigar shop owner who wanted to significantly change someone's life financially but didn't know how. One of his best friends suggested he give back through cigars, giving birth to Los Caídos ("The Fallen"- a cigar honoring fallen officers and raising money for their family members). One day, as Steve was servicing Los Caídos cigars at a PBA golf outing, a gentleman mentioned he didn't smoke cigars but still wanted to support the cause by donating $1,000. So, Steve established Life of a Ridetime!, currently operating as a tax-exempt non-profit organization under Section 501(c)(3) of the Internal Revenue Code.